1200 people attended the international youth basketball in Fougères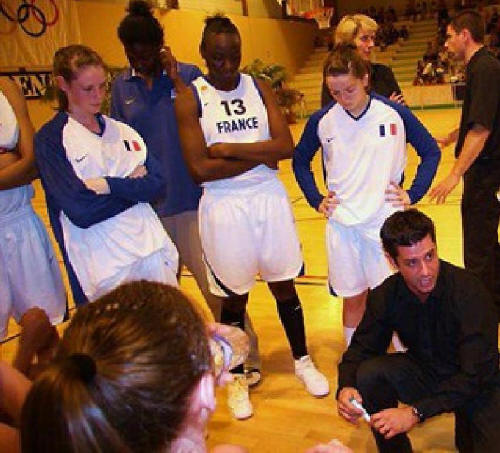 Michel Coudray organised this year's youth basketball competition in Fougères as a preparation tournament for teams participating in the first U17 World Championship in July.
Due to school exams Belgium were without two of the stars from the 2009 U16 European Championships, Emma Meesseman and Julie Van Loo.
On the first day Belgium got past Turkey (58-56) in a game that required double-overtime. Melike Yalcinkaya was the player of the match for Turkey with a game high 17 points.
Lynn Delvaux and Line Delmulle scored 14 and 13 points for Belgium.
France opened with a (91-25) victory against Mali. France had the game won by the end of the first quarter leading (23-0).
Caroline Plust led the scoring for France with 19 points.
On the second day Belgium had an easy victory against Mali (103-25) with Hanne Mestdagh leading the scoring with 18 points.
Turkey's love for drama continued as they held off France (48-47) in a match that both coaches will quickly forget as their sides hit less than 30% from the field.
On the final day Turkey beat Mali (70-37) with Olcay Cakir taking the player-of-the-match award while Ayse Cora led the scoring with 12 points.
Due to the fact that Turkey's winning margin against Mali were 33 points, the final match of the tournament between France and Belgium became the unofficial final.
France ran out winners (59-41) with 14 points coming from Margaux Galliou-Loko.
Belgium edged out Turkey on point difference for second place while Mali finished last.
For Mali this was their first experience of youth international basketball in Europe and they improved from game to game.
Esther Niamke-Moisan from France won the award of MVP and was joined in the tournament team by Lien Delmulle, Ayse Cora, Melike Yalcinkaya and Christelle Diallo.
Delmulle also won the award as top scorer with a total of 37 points (12.3ppg) while Anaëlle Le Bruchec from France won the three-point shooting contest.
Over the three days 1200 people turned up to watch the games and support the players.
---
France U17 start preparation in Fougères
Go to French international youth basketball page
Go to Women Playing Basketball In France Home Page
GO Back to the top of the page
---
Picture credits:
Ouest France

Date created: 24 June 2010
---