France U20 international
youth basketball training roster
20 players called up for first training camp
Grégory Halin
will start his international youth basketball season with the France U20 team on 30 May 2011 with a 12-day training camp.
His squad of players will take on Great Britain in a three-match series during the second week of the camp.
With the qualification of France for the U19 FIBA World Championship for Women only two players born after 1991 have been called up to this camp.
Injuries to Diandra Tchatchouang and Allison Vernerey have ruled both of them out for the international basket season. So France will not have players from the NCAA in the roster this year.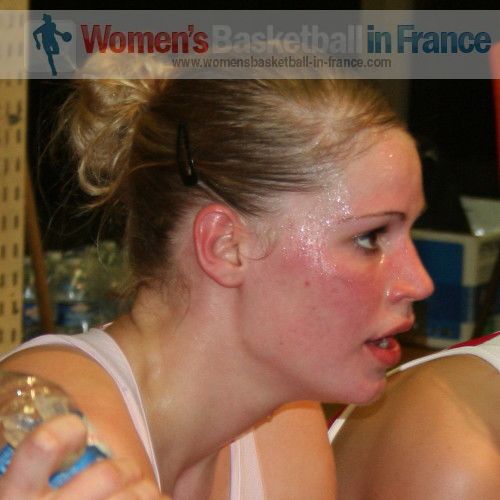 Seven players come from teams in the LFB, thirteen play for clubs in LF2 while the youngest member to be called up plays her basketball in NF1 (division 3).
The second training camp will start on 16 June and end with the traditional four-nation international youth basketball tournament in Bourg-en-Bresse.
After the second training camp the final roster for the FIBA Europe U20 European Championship for Women Division A will be made.
The 12 players selected will conclude their preparation in Serbia with three games against Serbia.
The 20 players are:

| | | | | | |
| --- | --- | --- | --- | --- | --- |
| Name | Surname | height | Year | Position | Club |
| Marion | ARFELIS | 1.86 | 1991 | center | Lyon BF (LF2) |
| Linda | BOUSBAA | 1.65 | 1991 | Point Guard | US Dunkerque (LF2) |
| Kelly | CORRE | 1.80 | 1991 | Ailière | Pleyber-Christ (LF2) |
| Madinina | DONIVAR | 1.78 | 1991 | Small Forward | AS Villeurbanne (NF1) |
| Elodie | DUBASQUE | 1.72 | 1992 | Meneuse | Avenir de Rennes (LF2) |
| Stéphanie | DUFOUR | 1.86 | 1991 | Intérieure | Roche Vendée Basket (LF2) |
| Kekelly | ELENGA | 1.86 | 1991 | center | Aplemont Le Havre (LF2) |
| Morgiane | EUSTACHE | 1.97 | 1991 | center | Nantes-Rezé Basket |
| Touty | GANDEGA | 1.70 | 1991 | Shooting Guard | USO Mondeville |
| Princesse | GOUBO | 1.65 | 1991 | Meneuse | Perpignan Basket (LF2) |
| Sophie | LE MARREC | 1.84 | 1991 | center | UF Angers Basket 49 (LF2) |
| Priscilla | LOKOKA | 1.87 | 1991 | center | Aplemont Le Havre (LF2) |
| Whitney | MIGUEL | 1.85 | 1991 | center | Avenir de Rennes (LF2) |
| Kadidia | MINTE | 1.87 | 1991 | center | Avenir de Rennes (LF2) |
| Manon | MOREL | 1.92 | 1992 | center | Challes-les-Eaux Basket |
| Margaux | OKOU ZOUZOUO | 1.83 | 1991 | center | Pays d'Aix Basket 13 |
| Marion | PUJOS | 1.87 | 1991 | center | Basket Landes |
| Clémentine | SAMSON | 1.81 | 1991 | Shooting Guard | Avenir de Rennes (LF2) |
| Isabelle | STRUNC | 1.79 | 1991 | Small Forward | Pays d'Aix Basket 13 |
| Chloé | WESTELYNCK | 1.88 | 1991 | Small Forward | SI Graffenstaden (LF2) |
---
Go to French international youth basketball page
Go to Women Playing Basketball In France Home Page
Return to the top of page
---
picture credits:
womensbasketball-in-france.com


Date created: 21 May 2011
---