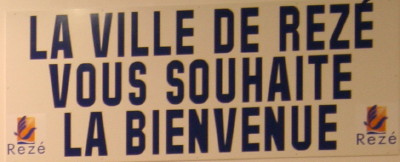 The international youth basketball season for France U18 will start on Thursday 24 June 2010 at the 22nd edition of the "Rezé Basket International" (RBI).
France will be joined by Australia, Czech Republic, Belgium, Netherlands, Russia, Sweden and Turkey at the RBI.
France are the defending champions and Grégory Halin the head coach has called up 15 players to prepare for this tournament.
Halin retains a number of players from the the first training camp and brought in players from the CFBB.
The players will be in camp in Vittel, France from 15 June until 23 June 2010.
The players selected and training staff are as follows:
| | | | | |
| --- | --- | --- | --- | --- |
| Surname | Name | Date of Birth | Height (cm) | Club |
| AKMOUCHE | Héléna | 01/01/1992 | 173 | CFBB |
| ANCHLING | Julianne | 12/05/1992 | 187 | ETOILE DE VOIRON FEMININ |
| BASQUE | Florine | 17/12/1992 | 183 | CFBB |
| BARBA | Martine | 19/01/1992 | 185 | GARNACHE |
| BLATRIE | Léa | 20/12/1992 | 170 | BASKET LATTES MAURIN MONTPELLIER AGGLOMERATION |
| BOUZENNA | Sabrine | 14/10/1993 | 164 | CFBB |
| DEVAUX | Mélanie | 12/02/1992 | 170 | COTE D'OPALE BASKET CALAIS |
| DIALLO | Awa | 29/06/1992 | 189 | BOURGES BASKET |
| DUBASQUE | Elodie | 09/01/1992 | 170 | RENNES AVENIR |
| GROSSEMY | Eléonore | 11/05/1992 | 183 | CFBB |
| JOSEPH | Johanna | 21/01/1992 | 185 | USO MONDEVILLE |
| MOREL | Manon | 01/06/1992 | 192 | CFBB |
| MUKOKO | Baléta | 06/01/1992 | 165 | GARNACHE |
| RADJATI | Maïssa | 08/02/1992 | 172 | BASKET LANDES |
| ROCHE | Mathilde | 21/09/1992 | 188 | BASKET LATTES MAURIN MONTPELLIER AGGLOMERATION |
Head Coach : Grégory HALIN
---
Go to French international youth basketball page
Go to Women Playing Basketball In France Home Page
GO Back to the top of the page
---
Picture credits:
womensbasketball-in-france
Date created: 11 June 2010

---