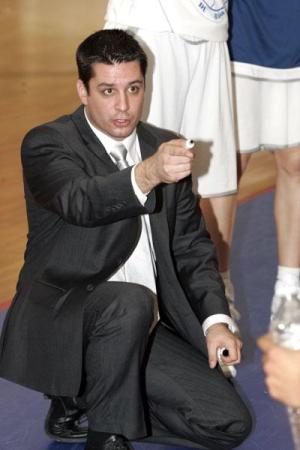 Arnauld Guppillotte
's international youth basketball preparation for the FIBA U17 World Championship Women will begin with an evaluation of 16 players born in 1993.
Similar to the U18 selection process, players from the CFBB have been excluded from the first training camp.
The date of the camp is: 1-5 March 2010
Cathy Melain and Julien Egloff will be assisting Guppillotte throughout the selection process and will work as assistant coaches during the World Championship.
The programme for the summer is taking shape and France U17 will participate at the "Tournoi de Fougères" in June.
The sixteen players selected are:

| Name | Surname | Club |
| --- | --- | --- |
| Justine | BARTHELEMY | Basket Lattes Montpellier Agglomération |
| Léa | BEAUGENDRE | Côte d'Opale Basket Calais |
| Romane | BERNIES | Bourges Basket |
| Lola | DE ANGELIS | Toulouse Métropole Basket |
| Margaux | GALLIOU | Bourges Basket |
| Mathilde | HERGOTT | Basket Lattes Montpellier Agglomération |
| Anaelle | LE BRUCHEC | Bourges Basket |
| Marie Bernadette | MBUYAMBA-TSHIMANGA | Villeneuve d'Ascq |
| Caroline | MENDE | USO Mondeville |
| Juliana | MIALOUNDAMA | Arras Pays d'Artois Basket Féminin |
| Claire | MICHEL | Challes-les-Eaux Basket |
| Caroline | MISSET | Reims Basket Féminin |
| Manon | PELLET | Basket Lattes Montpellier Agglomération |
| Onayssa | SBAHI | Villeneuve d'Ascq |
| Audrey | ZAIRE | USO Mondeville |
.boldtable,.boldtable TD,.boldtable TH{font-family:sans-serif;font-size:8pt;color:#000;background-color:#d8d8d8}
---
Go to French international youth basketball page
Go to Women Playing Basketball In France Home Page
GO Back to the top of the page
---
Picture credits:
CFBB

Date created: 19 February 2010
---