FIBA Europe youth basketball draw 2011
U16 European Championships Women
Division A, Division B groups
The international youth basketball programme in France at U16 level for women has been very successful in the last few years.
France have been on the last four podiums of the FIBA Europe U16 European Championship Women Division A. This year Julien Egloff moves up from assistant coach to head coach.
Russia who won their first U16 Division A title last summer will be defending their title in Cagliari, Italy between 11 August and 21 August 2011.
The top five teams from this competition will qualify for the 2012 U17 FIBA World Championship for Women.
The four groups are as follows:
| | | | |
| --- | --- | --- | --- |
| GROUP A | GROUP B | GROUP C | GROUP D |
| Sweden | Czech Republic | Italy | Turkey |
| Poland | Greece | Finland | Serbia |
| Slovak Republic | Croatia | Hungary | Netherlands |
| Belgium | Russia | Spain | France |
Division B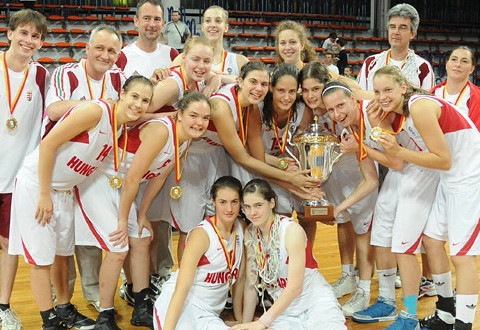 Hungary won the division B title in 2010
Romania will host the tournament in Arad and the four groups are as follows:
| | | | |
| --- | --- | --- | --- |
| GROUP A | GROUP B | GROUP C | GROUP D |
| Ukraine | England | Bulgaria | Ireland |
| Portugal | Slovenia | Romania | Denmark |
| Latvia | Belarus | Lithuania | Germany |
| Luxembourg | Estonia | Israel | Switzerland |
---
U16 draw information for the summer of 2010
Return from international youth basketball news to FIBA European youth competition index
Return from Youth International Basketball page to Home page
Return to the top of page
---
Youth International Basketball picture credits:


FIBA

Date created: 16 January 2011
---