Women playing basketball in France looking forward to the new season
---
---
The Open LFB is the showcase event for women playing basketball in France.
We were able to speak with Jenne O'Hea from Australia, Jolene Anderson and Michele Van Gorp from America and Kaela Chapdelaine from Canada.
During the second round match between Nantes-Rezé and Mondeville we interviewed Nyree Roberts who has been playing in Europe for many years.
We have added to this page the same interview from Jolene Anderson that was included in the LFB Open match report of Villeneuve' victory against Aix-en-Provence.
---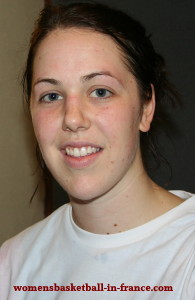 Jenne O'Hea
: She is playing outside Australia for the first time in her career. She turned 21 in June and she has chosen Asptt Arras. She spoke with us shortly after her first official match during the Open LFB.
She explained that everything was cool and she has been made to feel at home. She believed that the style of basketball in Australia was very familiar to that in Australia.
However the training schedule was not the same. She has been adjusting to train twice a day, something she did not do in Australia.
Despite the change in the training rhythm, it was going well. Although her side lost in overtime to Challes on overtime, she was pleased with the first game.
It was a little bit more difficult for her parents for her being so far away. They have been calling every day. That is why she ended her interview with a message for them.
(Note: If you are using Internet Explorer click twice on the triangle)
---
Kaela Chapdelaine
is a Canadian and for her first season in Europe after completing her NCAA career. She has started to play at Nantes-Rezé.
She is happy to be in France and went on to explain about the transition from college basketball to professional game played in France. She found the mental aspect of the game interesting which was something new for her.
The fact that she speaks French has helped a lot. So she was able to integrate into the French culture which she loves. She is looking forward to a good season.
(Note: If you are using Internet Explorer click twice on the triangle)
---
Jolene Anderson
is 22 years old and is in Europe for the first time as a professional basketball player after being a successful college player at Wisconsin. She also made her début in the WNBA this season alongside
Sandrine Gruda
with the Connecticut Suns.
She has been to France before and is happy to be back again. She is loving every moment.
(Note: If you are using Internet Explorer click twice on the triangle)
---
Michele Van Gorp
was away from the professional basketball circuit for a few seasons and is on her comeback trail with Nantes-Rezé.
She has played in France before, with CJM Bourges (Bourges Basket) and won a EuroLeague Women title with them in 2000. She had to stop playing basketball during the 2004 season due to injury.
Unfortunately complications with the injury forced her to miss the 2005 season and led to her early retirement. But she is back again.
She commented that it had been some time since she played. She was expecting it to take sometime for her to get back to her best. But with five games in fifteen days her breaking in period should be short.
She said that she expected for the first part of the season there would be a lot of learning for the team together. But she was looking forward to it.
She added that she liked the region of Nantes. The people were nice, the staff great and she was looking forward to the season.
(Note: If you are using Internet Explorer click twice on the triangle)
---
Nyree Roberts
(32 years) has played all over Europe and is happy to play in France. She said it was cool and different from other places she played. However the team was good and that was making a lot of difference.
(Note: If you are using Internet Explorer click twice on the triangle)
---
---
Return to women playing basketball blog
Return to women playing basketball audio interview page
Picture credits: Womensbasketball-in-france.com
Date created: 04 October 2008

---