Women playing basketball in France
K. B. Sharp
Chioma Nnamake
---
---
For women playing basketball in France, there are plenty of opportunities to play against players who have done well in the American College system (NCAA) and also have experienced life in the WNBA.
K. B. Sharp and Chioma Nnamaka are two women basketball players that have experienced both situations and speak about playing basketball in the Ligue Féminine de BasketBall.
---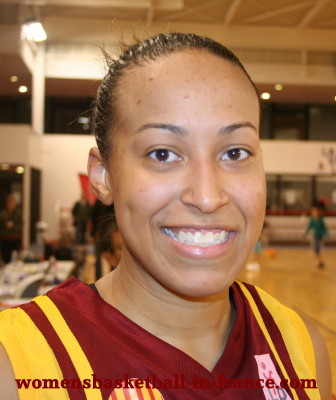 K. B. Sharp
is in her third season in France.
She joined Aix-en-Provence during the season of 2006-2007 and played alongside a fellow American Cathy Joens.
Sharp is one of just three players remaining still at this French club from her very first season in France.
She almost left Aix as she had signed to join USVO.
However the merger of USVO into Union Hainaut Basket put an end to her leaving her old club.
Sharp is renowned for her passing game and numerous buzzer beaters and her nice smile.
She loves playing in the French league as no game is easy and players have to show up at all times whether you are playing Bourges Basket at the top or newcomers Basket Landes.
She still believes the competition this season will be tougher than her previous seasons.
When Sharp is not playing in France she is a regular player in the WNBA and has been resigned by Chicago Sky for the 2009 season.
(Note: If you are using Internet Explorer click twice on the triangle)
---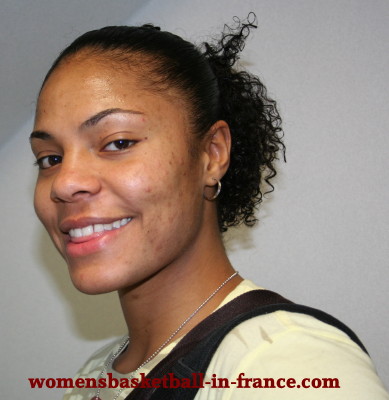 Chioma Nnamaka is a Swedish international player.
She spent four years at Georgia Tech in the NCAA and played as a rookie last season in the WNBA with the Atlantic Dream.
Nnamaka joined Union Hainaut Basket for her first professional season in Europe.
She explained that playing college basket is different from professional basketball.
And playing in France is also different to the WNBA. All the same she believes that she has made the necessary adjustments and is enjoying her experience in France.
Because of her international experience with the Swedish national team, she plans to continue playing basketball in Europe.
(Note: If you are using Internet Explorer click twice on the triangle)
---
Return to women playing basketball blog
Return to women playing basketball audio interview page
Picture credits: Womensbasketball-in-france.com
Date created: 05 March 2009

---