New challenges for women playing basketball at UHB-SA
---
---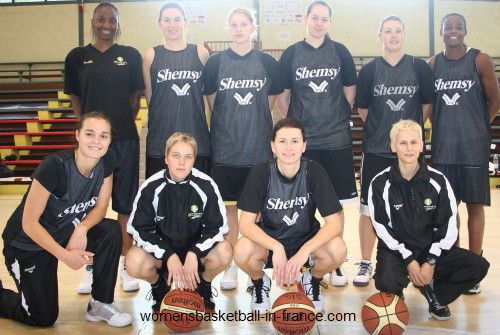 Saturday morning workout for the women playing basketball at UHB-SA
In our series of women playing basketball in France, we had the opportunity to meet up with the players from Union Hainaut Basket-Saint Amand.
The club has an impressive roster with players such as Laëtitia Kamba, who was a U20 European Champion with France during her youth basketball career, and Karolina Piotrkiewicz (the blog writer) who played in the NCAA with Liberty and also had a successful youth international career with Poland.
There is also Noémie Lemaire who played at Clermont Ferrand last season in the LFB but who came to limelight during her time at the Mondeville basketball academy.
She was the MVP during the "Coupe de France" in the cadettes final in 2005.
Dasa Kransnockova is not so well known in France. Yet she represented the Slovak Republic during the 2009 world students games.
However we choose to speak with French internationals Clémence Beikes and Emilie Duvivier, youth player Céline Girard and American Janeka LOPP
All the interviews were conducted in the players' mother tongues although Beikes volunteered to do it in English and Loop in French.
Each player was talking about the issues for women playing basketball in France and the difference between NF1 and the leagues they have been playing in.
---
---
Clémence Beikes, a student again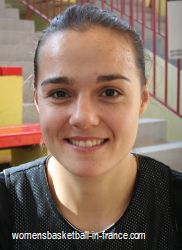 Clémence Beikes never gave up studying. But as she has only one game per week at the moment, she decided to return to University for her third year in Economics.
Previously she was on the self-study distance learning programme.
(Note: If you are using Internet Explorer click twice on the triangle)
She said she was pleasantly surprised by the standard of basketball in NF1.
Although there were a lot of young players, there were still a lot of players that played in the LFB before.
However the game was not as physical as in the LFB, in the sense that it was not as difficult to get into the paint and score. Otherwise the standard was good.
For women playing basketball in the top league it is not easy to drop down a division.
For Beikes who is a French international and who signed a two-year contract with UHB, the choice was simple.
She explained it had nothing to do with the contract that she signed.
The president of the club Jean-Pierre Boulanger laid out his plans for the club and Beikes decided she wanted to continue her adventure with the club.
---
Emilie Duvivier, reflecting on the changes in NF1
Emilie Duvivier
had spent the last six seasons playing basketball for Challes-les-Eaux in NF1 and in the LFB.
She is in her first season at UHB-SA.
Meeting her coach from Challes-les-Eaux again was something that happened by chance.
Duvivier is also a French international that played for France during the EuroBasket 2009 qualification round in the summer of 2008.
Duvivier is a product from the French National Basketball Academy (CFBB) and had the opportunity to play in NF1 during her youth career.
(Note: If you are using Internet Explorer click twice on the triangle)
Although she could not remember how NF1 was back in her youth days she commented that for women playing basketball in NF1 today the standard had gone up because a number of women playing basketball in NF1 had been in the LFB.
The game had become more difficult and very physical and that there were many tough teams and no easy games.
Every match was important which was not always the case a few seasons back.
On a personal note she was happy to be at Saint Amand after six years at Challes.
She believes her time at Challes-les-Eaux has helped her develop as a player and she is hoping that the team gets promoted quickly.
---
---
Céline Girard could benefit from an American NCAA system for students playing basketball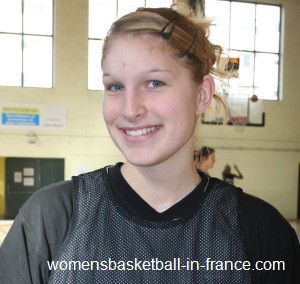 Céline Girard has just turned 19 and is just one of many young women playing basketball at the top level, "haut niveau", who also attends university full time.
However France does not have a collegiate sports system for neither men nor women playing basketball in France.
Unlike in systems like the NCAA in America with the concept of student-athlets with students playing high level sports at the university, students in France have to sort out their top level sporting activities outside the structure of university sports.
(Note: If you are using Internet Explorer click twice on the triangle)
Girard is a second-year student in
Management Science
and explained to us how she got through her first year and how she was coping with the changes in her basketball programme this year.
In the audio interview she said that the first year at university while playing for the Espoir team in NF2, she had no problems with attending classes because she only trained once a day in the evening after the first team.
This season she was in the first team and had to train twice a day. As basketball had become her priority she fitted in classes when she could and did her best to catch up what she had missed.
All the same she was of the opinion all was going well.
Girard added that as far as basketball went life in NF1 was more intense and physical and a lot of work was required to get the correct results.
Girald had the opportunity to play international youth basketball for France with the U19 team in preparation for the U19 World Championship.
She was invited to the first camp of 14 players and made the cut for the second phase.
She knew that some players from the U18 team playing at the European Championship would be included in the final team and was disappointed that she was one of the six players from the first phase that had to give way to U18 players.
This was the first time she had been involved with the French national team and did all she could to be selected.
So she was disappointed not to have had the chance to go the world championship.
---
An American woman playing basketball in France who had experienced the lower leagues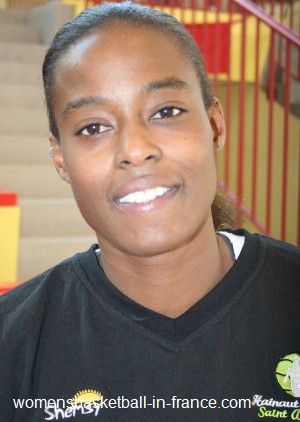 Janeka Lopp
is an American that played college basketball at the University of Hartford and entered the
WNBA draft
in 2002.
However things did not work out the way she wanted and although she was asked to return she decided not to and came to France instead because she always wanted to come to Europe.
She had the opportunity to join clubs in the LFB when she first arrived in France. But after watching the practises she thought it was too much.
So Lopp decided to drop down and play in the lower league. Yet she did not realise how low she dropped.
She explained that it was her wish to come to Europe and that she wanted to profit from that experience. So after a year in Paris, which on reflection she believed was a mistake, she went down to the south of France.
However when she moved down south she decided to learn the language by taking lessons and did other things including travelling to other countries.
(Note: If you are using Internet Explorer click twice on the triangle)
She took advantage of her basketball skills to move around in Europe.
With her experience with the women playing basketball in the lower leagues she wanted to move up and she gave the following explanation about coming to Union Hainaut Basket.
She decided that she would like to end her career on a high note in either NF1 or the LFB. That was why she came to Saint Amand.
With the break-up of the partnership between Saint Amand and Valenciennes (USVO) she came to help them out and at the same time they were helping her out with her ambition to end her playing career on a high note.
In 2006 Lopp played against the SIG in the final of the French Cup. She was the MVP that day as her club Perpignan won the trophy.
She said it was one the best moments of her time in France. What she remembered was that some players on that SIG team had had experience of playing in the higher leagues (LFB) and she knew then that she could play at the level.
---
Return to women playing basketball in France interviews
Return to playing basketball blog
Return to women playing basketball in France home page
Picture credit:

womensbasketball-in-france.com

Date created: 21 November 2009

---