Women basketball players speaking about their experience in France
---
---
Six women basketball players spoke about their experience of playing basketball in France during the Coupe de France weekend in Metz.
You can listen to the players' comments: Wambe and Dantas speak in French while the other players speak in English. Ilic has also added a few words in her language.
If you wish to listen to the players and if you are using Internet Explorer click twice on the triangle
For Wambe the French game is very fast
Kathy Wambe is in her sixth season in France and compared her experience in France with that of Belgium, her country of origin. She explained that everything was different. The training and defence were more difficult. The game was more physical and very quick and the players were physically very strong.
Wambe believed that despite the fact that many players have left France for other leagues the French league was still very good.
Ilic has found her way in Europe
after years playing college hoops in America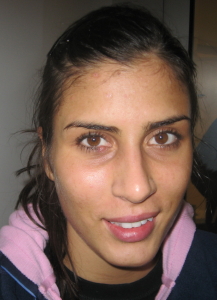 For Serbian international Jasmina Ilic, European basketball was different to what she was used to in America. All the same she felt happy to be playing at Villeneuve and has been learning and finding her place in the team.
A few words in her native language
Dantas likes the style of play in France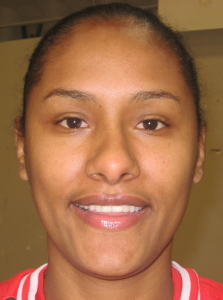 Brazilian international Jucimara Dantas, who spoke in French, explained that compared to Spain and Italy where she had been playing before the French league was stronger. This was why she thought that the league was more interesting. She was in Italy last season but once the opportunity came to play in France again she was happy to return. Dantas reckoned the French style of play was similar to Brazil and that was the reason for her coming back after four years of absence.
For Basko it is not only about basketball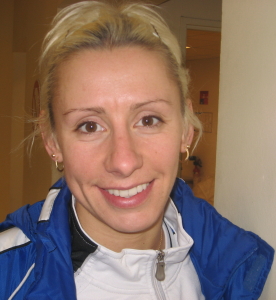 Gunta Basko is in her fourth season of playing basketball in France. She spoke about the life of a professional basketball player in France. She expressed her love for the southern region, the food, the people. She mentioned about life on the road and the places to visit as well as the level of basketball. Overall she has been enjoying her experience playing in France.
Daley is looking forward towards the play-offs<:CENTER>
Grace Daley believed that the French championship was very competitive. You had to work hard every night and that anything was possible. She also explained that the season had its up and down for them. But the most important thing for now was to find themselves so that when it would be the moment for the play-off the team would be ready.
Hardy enjoys the derby matches in the North
This is Allyson Hardy's second season in France. She played in Nice last season and signed for COB Calais in the off-season. Hardy has had previous European experience in Macedonia and Hungary.
She explained that the French league was the most competitive that she has played in. She said that playing as a point guard or shooting guard (2) was very difficult for her as the guard and post players here were very strong.
She also enjoys the Derby matches against Arras, Saint Amand, USVO and Villeneuve. This was not only due to the fact that the games were close to home but the rivalry and the competition were exciting to her. She likes playing in this part of France because of the number of teams playing in the Ligue Féminine de basketball (LFB)
---
Basketball players from Aix-en-Provence speak about their experience
Return from Women Basketball Players to "What's New" page
Return from Women Basketball Players to basketball Structure
Women basketball players picture of Kathy Wambe is courtesy of the Ligue Féminine de BasketBall

Date: 01 April 2008
---