France U16 start their preparation to defend their Termosteps European crown with a 4-nation international tournament in France.
The international tournament of Poinçonnet has become a permanent fixture in the preparation calendar for France. The guests with the Czech Republic, Hungary and Spain are traditional strong division A nations at this level. They should provide good opposition for the first outing of the 1992 generation in 2008.
This is the second competition for this group after a tournament held in Greece last August.
18 players were called to prepare for this competition and 12 players have been selected.
Three players who missed the tournament in Greece, because they were playing with the 1991 generation at the last European Championship, make their return: Héléna Akmouche, Adja Konteh and Marion Lemonnier. All three play for the CFBB in NF2.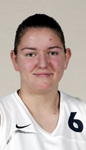 There are four other players from the CFBB in the squad: Florine Basque, Eléonore Grossemy (left), Laura Kebe and Anaïs Manceau. Grossemy was the MVP during last season's inter-regional final and has already made her début in NF1 this season.
Bourges Basket have two players in the squad: Aminata M'Baye who was the best player when the team played in Greece and Laury Aulnette.

The other three players that make up the squad are: Jenny Fouasseau, who is playing in NF3 with Reims this season and is known for her three-point shooting, and Marie-Ange Mfoula, who has come along this season under the guidance of Brahim Boullane, Saint Amand. The last player is Tracy Albicy who left Paris Basket for Villeneuve d'Ascq. She has already made her début in the LFB and plays in NF2.
The matches will be played between Saturday 22 - Monday 24 March.
Saturday: Spain - Czech Republic, France - Hungary
Sunday: Spain - Hungary, France - Czech Republic
Monday: Hungary - Czech Republic, France - Spain

Return from Termosteps European U16 Women preparation to Basketball Events

Date: 21 March 2008
---