It is not simple playing basketball in the LFB
After nine rounds of playing basketball in the Ligue Féminine de Basketball, Challes-les-Eaux and Montpellier are proving to be the teams to beat with a perfect domestic record.
However the battle between the rest of the teams for the remaining play-off positions is very open.
The Niss'Angels, also known by the name of Cavigal Nice, have finally opened their account with a home victory against Tarbes (74-57).
Cavigal Nice have averaged over 70 points per game at home. So Tarbes needed to be at their offensive best. Cavigal Nice went into the locker room leading (35-32).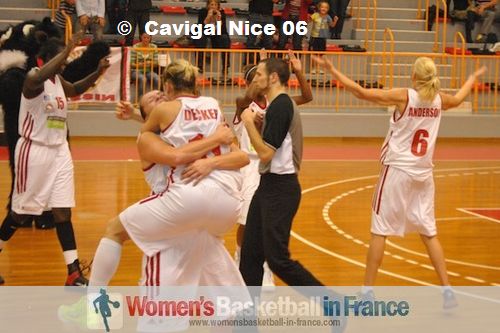 Aminata Konate had said early in the season that her team was going to battle for the points all season. At the start of the second half, Konate was on fire and within two minutes Cavigal Nice were 11 points clear (43-32).
Tarbes never recovered and for the first time this season Jeanne Senghor-Sy exploded offensively with 25 points. She went 9-of-10 from the charity stripes. Merike Anderson added 13 points as the Niss'Angels ran over Tarbes.
Ana Cata-Chitiga and Paoline Salagnac were the only players from Tarbes playing basketball in this game with 18 and 14 points each.
Lattes Montpellier and Challes-les-Eaux playing basketball to win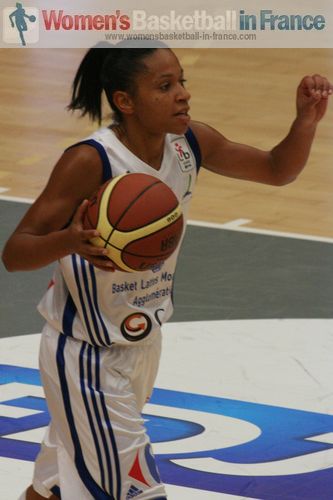 Lattes Montpellier made light work of Charleville-Mézières (71-64). The final scoreline has more to do with Montpellier taking their foot off the accelerator in the final quarter.
Montpellier killed the game as a contest as early as the first quarter leading (21-8) with Edwige Lawson-Wade (right) already on 10 points. For the hosts Amel Bouderra (13 points) was in foul trouble with 2 in the first five minutes.
Charleville-Mézières battled away but were terrible from the charity stripes (13-of-24). Despite an impressive comeback in the final quarter they were never in the game.
Lawson-Wade's only miss of the game came at the end of the first quarter when she threw up a shot on the buzzer. She finished with 19 points and 4 assists.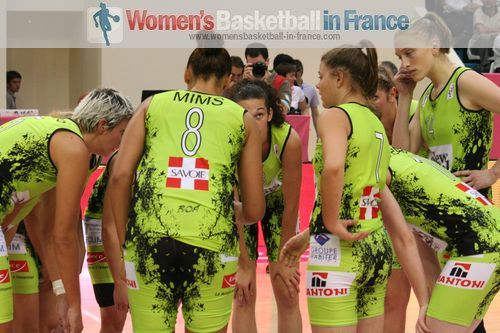 Challes-les-Eaux had a tricky assignment visiting Basket Landes. But once again Mistie Mims won her duel, this time her battle was with Jennifer Humphrey with her side taking the victory (55-46).
Humphrey managed just 8 points while picking up 15 rebounds. Her main problem was being handicapped with fouls. She eventually fouled out. Mimms who was also in foul problems, somehow managed to finish the game scoring 20 points.
The match itself was disappointing but Challes-les-Eaux displayed their skills in playing basketball defensively. In addition to Mims' offensive actions, Emilja Podrug and Romy Bär were active with 16 and 11 points each.
Playing basketball for the play-offs in week 9
Elsewhere in the Ligue Féminine de Basketball, Bourges Basket were almost back to playing basketball at their best with a comfortable victory against Aix-en-Provence (75-50).
Cathy Joens led the way with 18 points while Stella Kaltsidou added 17 and Nwal-Endéne Miyem and Jennifer Digbeu scored 12 and 10 points respectively.
Aix-en-Provence stayed in touch for 12 minutes (17-20) and then nothing for the rest of the match.
Nantes-Rezé's crisis looks to be over as they won on the road against Villeneuve d'Ascq (76-66).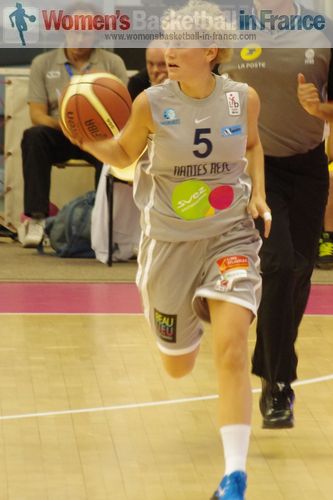 Lenae Williams had 23 points but the match was won by Caroline Aubert (in picture) who picked up 11 rebounds which included 4 on the offensive end. She also scored 17 points. Doriane Tahane is also playing basketball at her best level after a year out. Despite being in foul problems she still scored 15 points.
For Villeneuve Emilie Gomis did her best with 17 points and for once Olayinka Sanni (28 points, 10 rebounds, fouled on 10 times) kept herself out of problems in compiling a triple-double.
Lyon BF needed a victory this weekend after Cavigal Nice recorded their first win of the season and they got it against Mondeville (67-56).
Lyon shot the ball better. With Julie Legoupil and Leslie Ardon without foul problems they were able have their best defensive players around at crunch time. Leigh Aziz led the scoring with 14 points while Audrey Sauret added 13 while dishing out 5 assists. Ardon and Mame-Marie Sy-Diop added 11 apiece.
Mondeville's home defeat was down to veterans' experience over youthful exuberance.
In the final match of the weekend Arras beat Hainaut Basket (55-49) in a badly played derby match. Gabriela Marginean was the match winner for the hosts with 15 points. Both teams should put their poor performance down to playing away in the EuroCup during the week.
Hainaut Basket were without Amisha Carter, who was injured in Spain during the EuroCup Women match against Gran Canaria.
So after nine weeks of Ligue Féminine de Basketball action Challes-les-Eaux and Montpellier are three games clear at the top. There are only four games separating the teams in third place from the first relegation place.
At the moment this situation and suspense is making playing basketball in France exciting.
This week's results are:
Cavigal Nice 74-57 Tarbes
Villeneuve d'Ascq 66-76 Nantes-Rezé
Bourges Basket 75-50 Aix-en-Provence
Charleville-Mézières 64-71 Lattes Montpellier
Basket Landes 46-55 Challes-les-Eaux
USO Mondeville 56-67 Lyon
Arras 55-49 Saint Amand Hainaut Basket
Return to the top of playing basketball in Ligue Féminine
---
Round 9: Face à la rélégation ou au maintien (review in French)
Go to Ligue Féminine de Basket 2011-2012 page
Leave Ligue Féminine de Basket - Season 2011-2012 page and return to home page
Return to the top of Ligue Féminine de Basketball page
Ligue féminine picture credits:


womensbasketball-in-france.com
Cavigal Nice O6


Date created: 20 November 2011

---