The match of the weekend was between the leaders Nantes-Rezé and the team in second place Charleville-Mézières.
Nantes-Rezé, playing in front of a capacity crowd of 800 people, completed the double over Charleville (56-50). They remain three games clear at the top of the table. Mathematically nothing is certain for the moment but they need only three more wins to secure a play-off spot.
Nantes-Rezé did not have it easy. The visitors went into the interval leading (27-23).
Marie Vicente Santa Cruz started the home side's revival in the third period. So Nantes-Rezé went into the final quarter in front (41-36).Charleville played a preparation match with Reims during the week and appeared to have picked up some fourth quarter tricks from them. They inflicted a 9-0 run on their hosts to take command (45-41) with five minutes left in the game.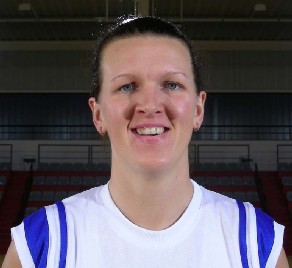 Nantes did not give in and with Agnieska Cieslak and Inga Kvasnika (left) they were finally able to get to the basket. The situation was reversed and within three minutes Nantes hit their opponents 10-0 to regain the lead for good.

Nantes-Rezé: Vicente 18, Ronot 12, Cardin 8, Cieslak 6, Kvasnika 6, Andreyeva 2, M'Bah-Nerrière 2, Brosais 2
Charleville-Mézières: Contessi 16, Vishnyakova 13, Ouerghi 5, Herrscher 4, M'Paka 4, Mercier 2, Senghor 2, Cailleux 2, Behey 2
---
---
Charleville's defeat drops them into fourth place because of the victories by Basket Landes and Armentières.
Armentières beat Lyon (65-60) but almost allowed their host s to take the game. Lyon trailed by 9 points going into the final period but came back to 2 points with three minutes to play. Sabrina Megoeuil from Armentières managed to break the resistance of Lyon with a trey in the last minute. Lyon's malediction in money-time continues.
Basket-Landes had no problems in beating La Roche (79-54).
Dunkerque kept their challenge for the play-offs alive with a fourth-period flourish (29-11) to overturn Rennes (81-72). Dace Brumemane was in good form for Dunkerque with 27 points and 12 rebounds. She hit 10-from-11 and drew 8 fouls in a dominating display.
The welcome news from NF1 round 21 was the first victory of the CFBB (above) in 2008. Diandra Tchatchouang was the match winner with 21 points as their game against Voiron (66-64) went to the wire.With Laurie Datchy (15 points) back to full fitness, the CFBB had their two strongest elements on display: The experience from Tchatchouang and Datchy saw them through an action-packed final minute. Maud Medenou also from the CFBB came up with a double-double 10 points and 10 rebounds.
Limoges eased their relegation problems as they beat Lot Garonne UST (76-67). Nice beat Strasbourg (80-65).
Pleyber-Christ beat Marseille (83-53) and move off the bottom of the table.
With only nine games left Lyon and Voiron are the big losers of NF1 round 21 as they were not able to reduce their deficit on the teams above them. They also allowed Pleyber-Christ to come to within one game of them.
With the news that Racing Club Strasbourg is in financial difficulty and may not play in NF1 next season it, only the bottom three teams would be relegated.
NF1 Round 21 Results:
Nantes-Rezé 56-50 Charleville-Mézières
Dunkerque 81-72 Rennes
Nice 80-65 Strasbourg
Lyon 60-65 Armentières
Limoges 78-67 Lot-et-Garonne
Basket Landes 79-54 La Roche
CFBB 66-64 Voiron
Pleyber-Christ 83-56 Marseille

NF1 Classification after 21 rounds
| | Club | Points |
| --- | --- | --- |
| 5 | Dunkerque | 35 |
| 6 | Nice | 33 |
| 7 | Rennes | 32 |
| 8 | Lot Garonne UST | 31 |
| 9 | Strasbourg | 31 |
| 10 | Limoges | 30 |
| 11 | CFBB | 30 |
| 12 | La Roche | 30 |
| 13 | Voiron | 27 |
| 14 | Lyon | 27 |
| 13 | Pleyber Christ | 26 |
| 14 | Marseille | 25 |
Return from NF1 round 21 to "What's New" page
Return from NF1 round 21 to Amateur Basketball
NF1 round 21 pictures courtesy of Nantes-Rezé 44 and Ligue Féminine de BasketBall

Date: 02 March 2008
---