Final of NF1 final four to be contested by the top teams at the end of the regular season
---
---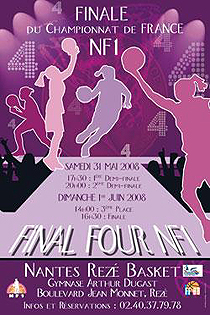 The NF1 final four semi-final matches went to the teams that finished in the first two places during the Nationale Féminine 1 regular season. Basket Landes victory against Charleville-Mézières earned them the right to enter the LFB next season.
Basket Landes have already beaten Nantes-Rezé twice this season and will be looking to make three in the final match of the 2007-2008 season.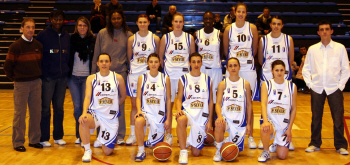 Basket Landes waited until the final quarter to put away Charleville-Mézières
Elena Vishnyakova
from Charleville opened the scoring in this match after concluding a patient build-up. She drove to the basket and finished with a lay-up.
Basket Landes' first score came from Elisabeth Montero who hustled the ball off Clarisse Mercier before scoring. The rest of the first period was a ding-dong affair with both teams having their moments. However Basket Landes held on to lead (19-16) after the first period.
Basket Landes continued to press their opponents but were only able to increase their advantage to 5 points (25-20) after fourteen minutes of play thanks to a trey from Emmanuelle Denion.
Charleville profited from a drop of intensity and went on a 9-0 run to briefly put their nose in front (29-25). Basket Landes managed to draw level before falling back by a single point at the interval (32-33).
Charleville came back from the locker room all fired up and opened the first significant lead of the match (42-35). Anaïs Le Gluher then started to find her the way to the basket for Basket Landes. So they cut into the lead of Charleville to go into the final period trailing by a single point (43-44).
The two teams continued to exchange baskets for the first two minutes of the final period with Charleville holding to the lead (50-48).
Charleville then were not able to score for almost seven minutes. During this time Basket Landes went on the offensive and started to take control of the game. With Le Gluher, Bineta Diouf and in particular Marion Laborde the gap widened between the two teams. By the time Elisabeth Montero got into the act Basket Landes had scored 13 unanswered points (61-50).
Amel Bouderra from Charleville made one last effort to bring her side back into the game with some exciting play and good perimeter shooting. But time was against her and Charleville's LFB dreams were over.
Basket Landes went to to win the match (66-33).
NF1 final four semi-final Box Score
---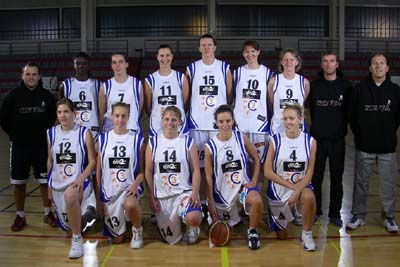 Nantes-Rezé made home advantage count in NF1 second final four semi-final
The second semi-final was a rather dull affair in comparison to the first match. Both teams took some time to settle in this game. During error-ridden first five minutes Nantes made home advantage count as they went into an early lead (7-3).
Finally Armentières hit a shot from the field. Once they found their mark, they came storming back into the game and briefly led on two occasions.
Sandrine Ronot from Nantes was the first player to get into her stride with 7 points during the first period including her team's last 4 points as they led after the first period (17-16).
Ronot continued her mini-festival in the second quarter as Nantes dominated and hence opened up a 10-point lead (30-20).
Armentières having a bad day from the free-throw line managed to reduce the deficit by the interval with Virginie Bremont and Gaëtane Merlot who came up with some individual exploits (25-32). Despite this fight-back Armentières' Kateryna Pilyashenko was already sitting on the bench with four personal fouls.
Nantes took advantage of Pilyashenko's absence to open up a 13-point lead during the third period (47-34). Then they took their foot off the accelerator.
Armentières had not abdicated and with Rachel Coumba leading the fight-back, they had pegged back 10 points within three minutes (46-49).
With 10 seconds left in this period it was Marie Vicente Santa Cruz who, with a trey, put an end to Armentières' challenge (52-46).
With Santa Cruz energetic trey Nantes kept their guests scoreless for almost eight minutes. They also added 10 more points (62-46) as they controlled the final quarter.
Armentières eventually ended the onslaught but did not have enough energy to trouble their opponents.
Nantes went on to win (66-53) and will now meet Basket Landes in the final.
NF1 final four semi-final Box Score
---
You can follow the live play by play action of the final games here on Sunday 1st June:

14:00 Charleville - Armentières
16:00 Basket Landes - Rezé-Nantes
Return from NF1 final four to "What's New" page
Return from NF1 final four semi-final to Basketball Events
Team pictures courtesy of FFBB


Date: 31 May 2008
---