Ligue Féminine de basketball video interview
Touty Gandega and Kadidia Minte
USO Mondeville is currently playing in the Ligue Féminine de Basketball with the youngest roster.
Vous trouvez en bas du page quelques explications en français sur la vidéo avec Touty Gandega et Kadidia Minte
Touty Gandega and Kadidia (Hhadydia) Minte who are both 20 years old speak about their path to professional basketball and USO Mondeville. They also add some words for their friend Diandra Tchatchouang.
Touty Gandega joined USO Mondeville in 2008 from Paris Basket 18, entering the basketball academy (centre of formation). However within three weeks of the 2008-2009 season Gandega was added to the first team roster and played her first game against Nantes-Rezé.
She made her international début with France U18 in 2009 and played in her first Open LFB in 2009.
Unfortunately she was injured shortly after the Open and was not able to play for the rest of the season. However this did not stop her from winning enough votes to be one of the five faces for the 2010 Open LFB poster.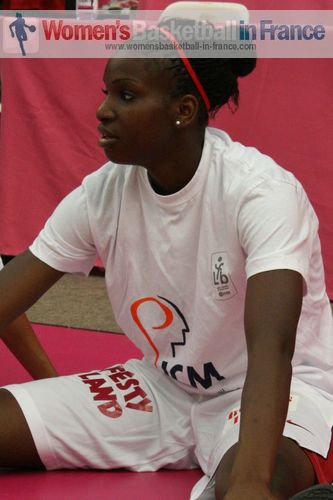 Kadidia Minte (in picture) left Paris Basket 18 in 2007 for the centre of excellence in Rennes where she quickly established herself and was promoted to the first team.
By 2009 she made the jump into the youth international scene and played for France at the U18 European Championship as well as the U19 FIBA World Championship for Women.
Gandega and Minte ended their international youth career during the summer of 2011 with a fifth place finish at the U20 European Championship.
Both players more or less started playing basketball at the same time and were members of the all conquering Paris Basket 18 team that had dominated U15 basketball in France between 2004-2006.
In the video interview, conducted in French, the two young players state being delighted about playing on the same team once again.
They both confirm that their paths in basketball were almost identical. The main difference was that Minte had left PB 18 a year earlier for Avenir Rennes in NF1 (today LF2).
Minte also reveals to us that she chose Mondeville in the Ligue Féminine de Basketball because she fits into the style of play preferred by the coach.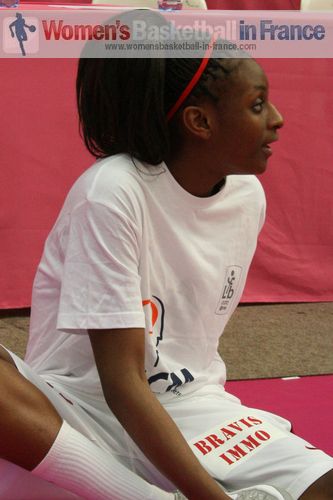 Gandega (in picture) adds that she believes in the team despite the young average age because Mondeville has besides players of experience, K. B. Sharp in particular and the Lithuanian international Eglė Šulčiūtė (Sulciute) also athletic, vibrant and exuberant players whereas Minte is of the opinion that players such as the young international Giedre Paugaite whom she met in youth international competitions should make an impact.
Minte confirms that with just two players remaining from last season the coach was looking for players who will be able to fight for rebounds and defence, so she thinks they will be okay.
Furthermore Minte is laughing that she will be meeting Diandra soon in the LFB when she is better. Minte has fond memories of them playing together at U15 as well as in the youth international competitions. Yet it was Diandra who went to the CFBB because she then was at a much higher level. Touty is expecting Diandra to play a big part in Montpellier and she deserves all her accolades.
Touty Gandega et Kadidia Minte se retrouvent à Mondeville
Un des projets de womensbasketball-in-france.com est suivre les jeunes joueuses dans leurs carrières.
Nous avons choisi pour cet entretien pendant l'Open LFB Gandega et Minte parce qu'elles avaient joué toutes les deux à Novi Sad dans l'équipe de France Espoir pendant cet été. Mais surtout parce qu'elles s'étaient connues déjà quand elles avaient joué ensemble à Paris Basket 18 il y a sept ans.
Leur progression est l'une de plusieures que nous allons illustrer dans notre site pour confirmer que le système de formation française est performant.
Les deux joueuses racontent leurs parcours et leur projet avec Mondeville et ajoutent aussi quelques mots sur Diandra Tchatchouang.
Veuillez trouver toutes leurs explications en français dans la vidéo.
---
Go to Ligue Féminine de Basket 2011-2012 page
Leave Ligue Féminine de Basket - Season 2011-2012 page and return to home page
Return to the top of Ligue Féminine de Basketball page
Picture credits:


womensbasketball-in-france

Date created: 3 October 2011
---