Ligue Féminine de Basketball
Cavigal Nice are catching up
Watch out for Bourges Basket
After 13 rounds of games in the Ligue Féminine de Basketball, the championship is nicely balanced. Challes-les-Eaux and Montpellier are leading the regular season standings with 11 victories each.
Bourges Basket have played only 12 games so far but have already lost 4 games. They lie currently in fifth place. Basket Landes and Mondeville share third place with 5 defeats each.
However the most interesting contest is at the bottom of the table in which just 2 games separate the bottom seven teams. It has been a number of years since the battle to avoid relegation has been so close at this stage of the season.
In this weekend's action of Ligue Féminine de Basketball, Bourges Basket marked their return to challengers for the regular season title by winning on the road against leaders Challes-les-Eaux (65-61).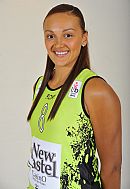 Although Mistie Mims (right) fired in 34 points for Challes-les-Eaux it was not enough to stop the 2011 LFB champions with double figure scores from Jennifer Digbeu (15 points), Cathy Joens (14 points) and Nwal-Endéne Miyem (12 points).
Only Basket Landes so far had been able to escape with a road victory against Cavigal Nice by scoring less than 70 points in week 4.
So the news that Cavigal Nice beat Aix-en-Provence (72-66) at home does not come as a surprise.
Once again Natalie Hurst was in the groove. She scored the first 9 points for Aix-en-Provence and finished the first quarter with 12 of her team's 15 points.
However Cavigal Nice had seven players scoring to edge the first quarter (20-15).
In a physical encounter in which rebounding was crucial Cavigal Nice had the advantage on the boards and held the lead all the way to the end.
For Cavigal Nice, Aminata Konate (4 assists) and Fabienne Constant had 12 points each while Jeanne Senghor-Sy finished with a double-double with 10 points and 10 rebounds. For Aix-en-Provence Hurst finished with 19 points while Tamara Abalde and Sylvie Gruszczynski scored 18 and 14 points each.
If only Charleville-Mézières could play on the road like they do at home, then they would be near the top. They beat Arras (55-57) with Greek international Zoi Dimitrakou (left) leading the way with 24 points.
Playing in front of the camera of Ardennes TV, the Flammes Carolo made the break in the first quarter (18-9) and never looked back. For Arras Leilani Mitchell was the leading player with 13 points.
Ana Cata-Chitiga fired in 24 points and collected 10 rebounds as Tarbes cruised past Nantes-Rezé (70-63).
Tarbes dominated the first half (43-31) and then paced themselves to victory. For Nantes it was the usual, a lot of long distance shooting but little inside game.
In the North derby between Villeneuve d'Ascq and Hainaut Basket, it was the team with the medical replacement that ran out on top.
Radoslava Bachvarova who is covering for Clémence Beikes top scored with 15 points for Hainaut Basket in their road victory (62-53).
Unfortunately for Villeneuve the turning point of the game came with just under three minutes to play with the score tied (53-53) when Olayinka Sanni picked up her 5th foul.
Without her on the court Villeneuve collapsed defensively and the game was lost.
Lattes Montpellier huffed and puffed for 30 minutes against Lyon while leading (52-40). Yet in the final quarter they stepped up a gear and blew Lyon away with a 22-5 run for a final score victory (74-45).
The match drew attention because three members from the French 2001 EuroBasket winning squad were involved: Edwige Lawson-Wade, Sandra Dijon-Gérardin and Audrey Sauret.
The teams will play again in midweek and then break until the new year.

All the results from round 13:

Basket Landes 68-62 USO Mondeville
Tarbes 70-63 Nantes Rezé
Charleville-Mézières 66-57 Arras
Cavigal Nice 72-66 Aix-en-Provence
Villeneuve d'Ascq 53-62 Hainaut Basket
Lattes Montpellier 74-45 Lyon
Challes-les-Eaux 61-65 Bourges Basket

---
Look back at what happened in round 10
Go to Ligue Féminine de Basket 2011-2012 page
Leave Ligue Féminine de Basket - Season 2011-2012 page and return to home page
Return to the top of Ligue Féminine de Basketball page
Picture credits:


LFB


Date created: 19 December 2011

---