Players adding suspense in the LFB team roster merry-go-round
---
---
The transfer activity has not slowed down as clubs continue to make LFB team roster announcements. With the NF1 season only coming to an end last weekend and with the victory of Basket Landes, more clubs started to make public announcements about who is staying and who is going.
LFB team roster news from Asptt Arras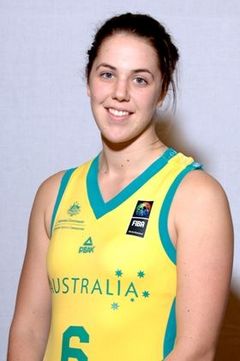 The Australian invasion of the LFB continues as
Jenna O'Hea
(left) joins Arras. She was one of the stars during the U21 World Championship held in Moscow during the summer of 2007. She won a silver medal with the Australian team. She is 1m87 and turned 21 today (6 June).
The other announcement is that of Princesse Goubo leaving Villeneuve. She is still eligible for U18 competition and is not likely to be a key member of the first team.
The current team roster for next season is: Marielle Amant, Julie Barennes, Julie Bertin, Stéphanie Beuzelin, Natalie Doma, Princesse Goubo and Sarah Michel.
Roster announcement of Challes-les-Eaux
There are no Americans for the club this season. Challes have also gone to Australia and signed 25-year-old
Carly Wilson
. She is in the Australian preliminary roster and was part of the 2006 commonwealth gold winning squad. She completes the recruitment exercise for the club.
Mattieu Chauvet, the assistant coach, is leaving the club to take up the reigns as head coach in NF1 with La Roche.
Johanne Gomis, who was injured at the end of last season and is currently in rehabilitation, will be loaned out by the club during the season.
What is happening in Basket Landes, Cob Calais and Bourges
They only won promotion last week and have not made any official roster announcements. The head coach, Olivier Lafargue, is hoping that the core of his championship side will continue the adventure in the LFB.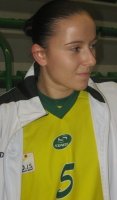 Cob Calais have still not made any official roster announcements and the FFBB have not confirmed their re-election. All the same Anne-Sophie Pagnier has signed for the club next season and will be joined by Belgium international Sara Leemans.
Bourges Basket completed their recruitment exercise in May. But there have been plenty of movements from players in their basketball academy. After a season in NF2 Lorraine Lokoka, a French youth international, has gone to Rennes in NF1 while Johanna Tayeau has joined Limoges.

Sandra Dijon leaves Montpellier
After two seasons with Montpellier,
Sandra Dijon
is off abroad once more. She has already played in Korea and Spain. Her next adventure will be in Russia with BC Moscow.
She is the fourth major player after Gunta Basko, Grace Daley and Katia Manic to leave the club. Montpellier will also be without Charline Servage, a product from their youth academy, who has decided to follow the director of the academy José Ruiz to Strasbourg.
The club has not announced a replacement yet for Dijon.
Return from LFB team roster change basketball news to "What's New" page
Return from LFB Team Roster Changes to LFB Basketball news
Previous roster changes from around the clubs
picture credit:
Jenna O'Hea - basquetebol.org


Date: 06 June 2008
---