Alex Montgomery joins Tarbes' LFB roster
Pascal Pisan has modified his LFB roster for the second time this season in a manner that has caused some confusion.
At the start of the season it was confirmed by the club to the media that Daria Mieloszynska-Zwolak had signed for the season. Apparently this was not the case because her contract ends on 30 November 2011.
Alex Montgomery who was the number 10 pick during the 2011 WNBA draft and who plays for the New York Liberty has been signed to replace Mieloszynska-Zwolak whose contract is coming to an end after the next EuroLeague Women match on 30 November.
When Pascal Pisan was asked about his recruitment, he said that she was a small forward (position 3). He added that they had been looking for a player who was stronger physically.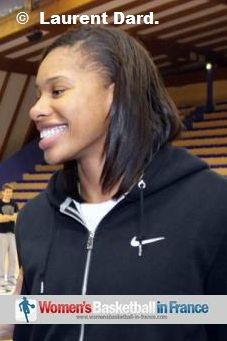 However the main questions about the duration and type of contract were not answered.
So what do we know about Montgomery: She studied history while playing basketball for the Yellow Jackets, also known as Georgia Tech, from 2007 until her graduation this year.
She played in a total of 123 games and averaged 12.7 points a game for a grand total of 1558 points. She was a member of various conference and academic teams during her NCAA career. She also visited France in 2010 and played a match against USO Mondeville.
She turns 23 in two weeks time (11 December) and she is 1.85 (6'1) and is a team-mate of Leilani Mitchell (Arras) in the WNBA. In her rookie WNBA season she played in 30 regular season and 2 play-off games.
---
Go to Ligue Féminine de Basket 2011-2012 page
Leave LFB basketball news - Season 2011-2012 page and return to home page
Return to the top of Ligue Féminine de Basketball page
Basketball news picture credits:


Laurent Dard

Date created: 26 November 2011
---