LFB round 21 finally comes to an end
while round 24 starts
Bourges Basket rescheduled their LFB round 24 match in anticipation of qualifying for the EuroLeague final 8 while Montpellier was playing its game from round 21 which had been postponed due to their participation in the EuroLeague Women play-offs.
Lattes Montpellier finally brought round 21 of the Ligue Féminine de Basketball to an end with a comfortable road victory against Villeneuve d'Ascq (87-67).
Montpellier won all the statistical categories in this game including that of turnovers. They also had five players in double figures.
Montpellier got off to a flying start with 8 points from Fatimatou Sacko in a (10-3) run to start the game.
With Kathy Wambe picking up her 3rd foul with just six minutes played, it was not looking good for Villeneuve but with Anne Breitreiner connecting twice from beyond the arc the hosts were able to stay in contact (20-23) at the end of the first quarter.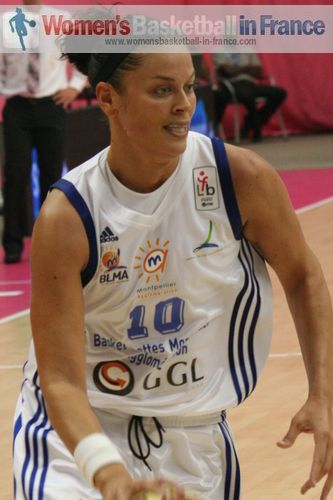 Villeneuve tied the match (25-25) two minutes into the second quarter but failed to take the lead. Montpellier finally stepped on the accelerator and put together a 9-0 run to finish the first half leading (44-34).
Montpellier controlled the pace of the game all through the second half without being in any danger of defeat.
Kristen Mann (in picture) finished as top scorer with 19 points while Sacko and and Ana Lelas had 18 points each.
Kaayla Chones contributed a double-double of 14 points and 10 rebounds while Edwige Lawson-Wade fired in 12 points and had 9 assists.
For Villeneuve the four-game winning streak has come to an end. Olayinka Sanni (12 rebounds) joined Breitreiner with 14 points while Emilie Gomis and Wambe finished with 12 and 11 points respectively.
Villeneuve missed the opportunity to move into fifth place alone in the LFB regular seasons standings.
Bourges Basket know how to defend and keep cool
In the first 30 minutes of the match Bourges Basket had committed just 2 fouls and despite not shooting the ball well they led Arras (47-33) going into the final quarter.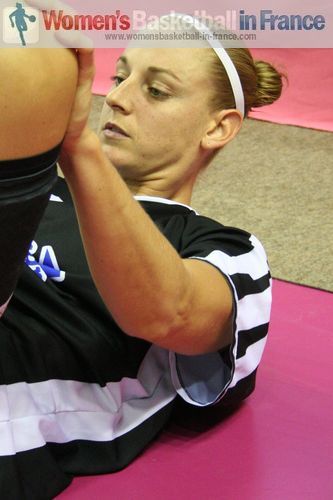 Arras struggled offensively but also in keeping their cool. Nadezhda Grishaeva picked up a technical foul in the second quarter after she was called for travelling. She decided to throw the ball down in an aggressive manner which resulted in two free-throws and 2 easy points for Bourges.
Grishaeva and Pauline Akongo-N'Simbo both fouled out of the game during the final quarter.
For Bourges Cathy Joens (in picture) was on top of her game, hitting 4-of-8 from behind the arc in her 19-point total. She also collected 8 rebounds. Stella Kaltsidou was next in the list with 11 points.
Arras never got into the game and if not for the 17 points of Akongo-N'Simbo would have been blown away.
Arras are in big danger of not qualifying for the challenge round and could still find themselves in relegation battle.
---
Look back at what happened in round 22
Go to Ligue Féminine de Basket 2011-2012 page
Leave Ligue Féminine de Basket season 2011-2012 page and return to home page
Return to the top of LFB Basketball news page
LFB basketball news picture credits:


womensbasketball-in-france.com


Date created: 8 March 2012

---