Bourges loss makes LFB news headline
---
---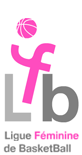 Challes-les-Eaux made the LFB news headlines for the two reasons. They ended the 35 regular season winning streak of Bourges Basket and they have moved into fourth place in the LFB regular season. They also have the honour of recording victories against all teams in the top half of the table.
Lina Brazdeïkyte did all she could to keep Calais' chance of remaining in the LFB. However Clarisse Costaz, a former player from Calais, sank a couple of free-throws in the last seconds to give Saint Amand the victory and end Calais's stay in the elite.
Reims and Clermont-Ferrand are two other teams back to form in April.
---
Challes making LFB news for all the right reasons
Martina Luptakova only landed one three-pointer in this match. However it came at the right moment at the beginning of the final period to bring Challes back into the game (47-50).
Emméline Ndongue came up with a couple of points for Bourges as they attempted to impose their authority in the game. But their opponents refused to be intimidated and regained control of the match.
Emilie Duvivier from Challes hit her second trey of the night (61-57) as the game entered money -time. An upset was looking possible.
Belinda Snell who was having a field day this evening from the land of many with 5-of-9 had a chance to bring Bourges back to within one point. But her attempt was not successful. However Snell has developed her passing qualities this season and delivered a nice pass for Céline Dumerc few moments later. Dumerc wasted no time in hitting the ninth three-pointer for Bourges in this match (60-61).
The last minute was tense as the ball failed to drop for either side for Challes to hold on to win. This is Challes-les Eaux' fourth consecutive victory. Due to better head-to-head records against Villeneuve and Mondeville they move into fourth position in the LFB standings.
Luptakova led the scoring with 17 points and was well supported by Laina Badiane with 14 points. Snell led the Bourges attack with 17 points and was the only player in double digits.
---
Saint Jacques Sport Reims held off Asptt Arras
Elzbieta Miedzik has been on form lately for Arras and was very active with her side having the better of the early exchange to lead (12-8).
Mia Fisher then went on the rampage for Reims including a sequence of 7 consecutive points in her 11-point first period total. The guests overtook Arras to lead at the end of the first quarter (25-16).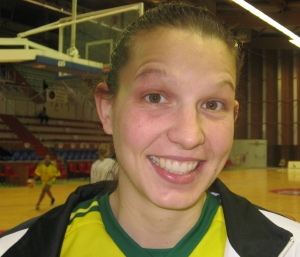 Zuzanna Klimesova then went to work offensively in the second period and Reims were on their way (30-18). Sheana Mosch and Carla Thomas for Arras did all they could to keep their club within striking distance. They scored 22 of their team's 38 points in the first half. Meanwhile for Reims Mame Marie Sy was causing all kinds of problem in the paint to assist her side going into the interval leading (48-38).
Anne-Marie Parau was not having much success from the land of many. Yet she was able to give a display of her passing skills as she clocked up 8 assists for Reims to remain in front during the third period.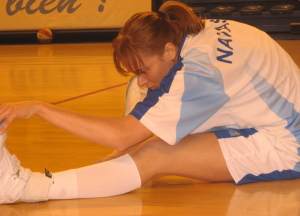 Natasa Ivancevic, on the other hand for Arras, was perfect from behind the arc. However this was not enough to stop Reims from stretching their advantage going into the final period (66-54).
The final period was a lively affair but Arras were unable to sufficiently reduce their deficit to trouble opponents. Parau and Fisher ended any illusion of a recovery for the hosts as Reims won (80-70). Fisher led the scoring with 23 points. She also had 3 assists but only 1 rebound. Sy had 19 points while Parau and Klimesova finished with 12 and 11 points apiece.
Mosch lead the scoring for the home side with 20 points. Thomas scored 16 while Ivancevic and Miedzik had 14 and 13 points respectively. With Calais losing Arras remain in the LFB next season.
---
---
Montpellier did the double over Villeneuve
In an interesting match, that will be available on LFB-TV on Sunday evening, Villeneuve had the better start and were leading (8-3) midway through the first period. Shala Crawford, Géraldine Robert and Kathy Wambe exploited holes in the home side's defence as they maintained their advantage (12-8).
Villeneuve were without Fatimatou Sacko who was out injured. With Crawford on two fouls they called upon Jucirama Dantas to play who was not yet at 100%. Montpellier then switched to zone and by the end of the first period the game was tied (16-16).
The second period started with both sides exchanging three-pointers with Jasmina Ilic for Villeneuve and Katia Manic for Montpellier.
Afterwards Montpellier took advantage of Villeneuve' s handicap in the paint to take the lead (27-19). The guests found the resource and energy to hit back going on a 13-2 run to go in front briefly before succumbing to 7-0 run by their opponents at the end of the period. Montpellier went into the break leading (36-32).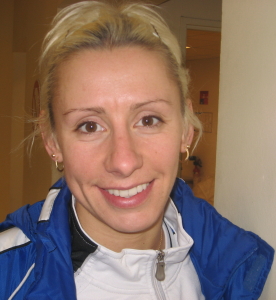 Their team game saw Montpellier take control of the tie in the third period. Gunta Basko was in her element. She was hitting from beyond the arc, taking defensive boards and dishing out assists to give Montpellier a 12-point head start (56-44) going into the final period.
The last quarter was not that exciting as the game became rather stale. For three minutes nothing happened. Finally Manic for Montpellier got things moving with a trey. Then both sides finished with a flourish of treys.
Villeneuve were not able to reduce their deficit so Abou N'Diaye decided to give Tracy Albicy more playtime than usual. Montpellier also allowed their youngster, Charline Servage, some time to play. Both players were to score.
Basko led the scoring for Montpellier with 19 points. She also had 14 rebounds. Elodie Bertal and Manic finished on 12 points apiece. Wambe scored 17 points for Villeneuve. It was only bad LFB news for Villeneuve as they lost their fourth position to Challes-les-Eaux.
---
LFB news from the other matches
Saint Amand had to work hard on their home court to stop their northern rivals Cob Calais (72-68).
Lina Brazdeïkyte scored 11 of Calais' points in the first period for her side to take the lead (24-12). Early foul problems for Aurélie Cibert and Andrea Csaszar was to play a big role in this match. Saint Amand recovered in the second period. In the interval both sides went to the locker room with the game tied (37-37).
Calais may have heard of Arras' difficulties during the interval as they tried to take control of the game. However Amand's Tiffany Stansbury was having a good day with 16 points and 24 rebounds. Volha Padabed with 21 points led the scoring for Saint Amand.

The final period was end to end basketball as the game went to the wire. The former COB Calais favourite Clarisse Costaz put the free-throws in that secured the victory but also condemned COB Calais for relegation.
---
USVO were never in danger as they beat Mourenx (75-51).
Kaayla Chones
scored 26 points for Mourenx but it was not enough to trouble USVO. For USVO Nicole Ohlde finished with a double-double of 16 points and 10 rebounds while
Reka Czerny
scored 13 points. The good news for USVO was the performance of Sarah Michel who marked her return with 8 points in 15 minutes of play time.
---
Liz Moeggenberg
led Tarbes in her best performance for the season with 17 points including 3-of-4 from the land of many. She also made 4 steals, dished out 3 assists and took 8 rebounds.
Tarbes only made home advantage against Mondeville count in the third period as they managed an 8-point lead going into the final period (47-41). Isabelle Yacoubou finished with a double-double 12 points and 16 rebounds as Tarbes went on to win (60-50).
Jennifer Digbeu led the scoring in this match with 18 points for Mondeville while Paoline Salagnac finished with 10 points.
LFB News: Round 24 results
Clermont-Ferrand 98-86 Aix-en-Provence
USVO 75-51 Mourenx
Tarbes 60-50 Mondeville
Montpellier 69-54 Villeneuve
Arras 70-80 Reims
Saint Amand 72-68 Calais
Challes-les-Eaux 61-50 Bourges
Return from LFB News to "What's New" page
Return from LFB News to Basketball LFB News
Look back at the LFB news from round 23
LFB news pictures of Lina Brazdeïkyte courtesy of the Ligue Féminine de BasketBall

Date: 05 April 2008
---