ASPTT Arras are back in the LFB news
---
---
Sheana Mosh is back in the LFB news leading the scoring with 21 points as Arras beat Challes-les-Eaux (86-67) to end her team's ten games losing streak. Marielle Amant (left) scored 14 points and had 10 rebounds while Elzbieta Miedzik had her best game for the club since her arrival from Dexia Namur in January.

All is not well at Challes-les-Eaux at the moment. Jessica Davenport spent the game on the bench. It appears that she has played her last game for the club. Meanwhile Marlous Niewmann scored 22 points on her LFB debut this season. Yet it was not enough to halt Challes-les-Eaux.
Mondeville were taken to overtime before putting away Calais (79-76). The game was fast and furious from the tip-off with the foul count moving faster than the official scoreboard. Mondeville had the better of the first half and went into the interval leading (40-33).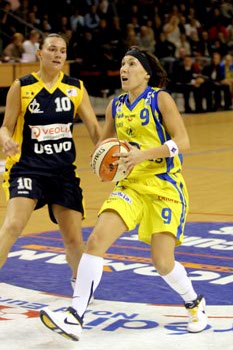 Mondeville's Naura El Gargati was the first player to foul out after only 27 minutes. Meanwhile Calais reduced the deficit and trailed by 2 points going into the final period (51-53).
The two sides continued to battle. Calais thought to have won the game (66-64). But Mondeville escaped and the game was tied (66-66). Nothing could keep the teams apart as they finished level after the first overtime.

Aurélie Cibert (above in yellow) missed out on the second overtime period as Mondeville held on to win (79-76) with Jennifer Digbeu scoring 23 points.
News from the other games
Belinda Snell was sick and could not play. However Cathy Melain (14 points and 6 rebounds) used all her experience to see Bourges through against Saint Amand (73-67). Tiffany Stansbury (left) had a double-double 24 points and 10 rebounds in a losing effort.

Gunta Basko hit 22 points as Montpellier beat Clermont-Ferrand (69-65). Pauline Krawczyk scored 27 points for Clermont-Ferrand but it was not enough. Montpellier stay in third position.
You can read the report of Reims' victory against Aix-en- Provence (63-55) and you can watch the victory of USVO against Tarbes (61-59).
---
LFB Round 18 Results and Box scores
Reims 63-55 Aix-en-Provence

Villeneuve 84-55 Mourenx

Tarbes 59-61 Valenciennes

Lattes Montpellier 69-65 Clermont-Ferrand

Arras 86-67 Challes-les-Eaux

Saint-Amand 67-73 Bourges

Mondeville 79-76 Calais

---
Return from LFB News to "What's New" page
Return from LFB News to Basketball LFB News

Date: 10 March 2008
---