Montpellier went on a 7-0 run to take control of the game once more (50-44) during the third period and maintained a 6-point lead going into the final quarter (54-48).
Tarbes switched to zone during the final period which disturbed their hosts. With just over four minutes left the guests were trailing by a single point (63-62). Montpellier gave the impression of controlling the game and with 37 seconds left still led (67-65).
Bonnan was fouled immediately by Moeggenberg but missed her free-throws for Dijon to pick up the defensive rebound. She was fouled and managed to split a pair of free-throws. With no time left on the game clock Mann threw a long-distance precision pass to Moeggenberg who fired it off immediately but the ball fell short.
The LFB news is that Montpellier notched up their ninth consecutive victory and that Basko will head the scoring and efficiency (ranking stats) statistics.
Reims showed their determination right from the tip-off with Mame Marie Sy and Mia Fisher coming up with blocks in the first minutes to open up (6-0). Yet two quick fouls for Zuzanna Klimesova did not help Reims' cause.
Jessica Davenport (10 points in the first period) profited with the extra space and Challes took control (26-14) by the end of the first quarter. Martina Luptakova's skill in drawing fouls allowed Challes to maintain their lead at the interval (39-34).
Foul problems for Sy saw her missing a big part of the third period. It was Fisher (who finished with 12 points, 5 assists and 7 rebounds in this match) that was given the task of provoking Davenport into picking up fouls. It worked as Davenport picked up two quick fouls on Fisher and also found herself on the bench.
Marie-Laure Fleury-Kindoki was the beneficiary of Davenport's absence as she scored more frequently and tied the game (53-53) towards the end of the third period.
The final quarter was end to end basketball with the lead changing at practically every possession. Sy, who hit 9-of-10 from the field, was on hand to score the game's winning basket for Reims.
Davenport scored 24 points but without Tiffany Jackson, Challes did not have as many offensive options.
Reims, noting up their fifth consecutive victory, will make the LFB news in the Ardennes.
K. B. Sharp is back
Saint Amand suffered their second consecutive reversals as they fell at home to Aix-en-Provence (64-68).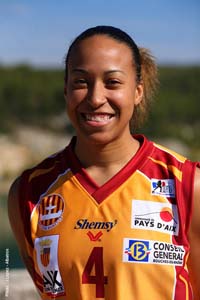 It was a close match that went all the way to the wire. With the game tied (64-64) and 90 seconds left, Sharp, who was having her best game of the season, took things into her hands. She first gave the perfect pass for Magali Lacroix to score just under the basket. Her next action was to block Clarisse Costaz.
It was not one of Costaz's better games as she was to miss moments later. Sharp picked up the defensive rebound and was fouled. She hit her free-throws to complete her night's work with 22 points, 4 steals and 3 assists.
(LFB news picture of KB Sharp courtesy of Pay d'Aix Basket 13)

Meanwhile the LFB news from Aix is that Greek International Anastasia Kostaki is on her way back to the club. She played for Aix during the 2005-2006 season before heading off to Russia via the WNBA.
---
---
LFB news round 16: results and points
Villeneuve 54-64 Bourges (12-14, 16-19, 13-14, 13-13)
Villeneuve d'Ascq: Bintou Diémé 4, Bénédicte Fombonne 0, Jucirama Dantas 6, Luba Drljaca DNP, Géraldine Robert 16 (13 rebounds), Kathy Wambe 8, Fatimatou Sacko 14, Shala Crawford 4, Jasmina Ilic 2
Bourges: Sonja Petrovic 2, Belinda Snell 7 (5 assists), Cathy Melain 11 (4 assists), Endene Miyem 10, Ana Cata-Chitiga 0, Céline Dumerc 11, Carine Paul DNP, Sonja Kireta 16, Florence Lepron 0, Emméline Ndongue 6, Nora Bujdoso 1
Arras 67-72 Valenciennes (USVO) (24-22, 14-14, 13-12, 16-24)
Arras: Julie Bertin 5, Carla Thomas 21 (13 rebounds), Bianca Vescan DNP, Sheana Mosch 11, Natasa Ivancev 16, Slyvie Gruszczynski 0, Mélanie Arnold 0, Elzbieta Miedzik 10, Marielle Amant 2, Anaïs Déas 2
USVO: Camille Aubert DNP, Laurie Koehn 13, Francesca Zara 7, Sarah Michel DNP, Doriane Tahane DNP, Amélie Pochet 4, Emilie Gomis 20, Krissy Bade 9, Sabrina Reghaïssia 2, Nicole Ohlde 14 (11 rebounds), Reka Cserny 3
LFB News: Arras has signed Ukrainian U20 international Arina Lysyuk from Dynamo Moscow
---
Calais 69-85 Clermont (12-19, 20-22, 13-24, 24-20)
Calais: Andrea Csaszar 8, Allyson Hardy 7, Lucie Bouthors 1, Vanessa Candelier 3, Mariame Dia 7, Aurélie Cibert 7 (5 assists), Lina Brazdeïkyte 15, Lauren Neaves 21, Pauline Machu DNP
Clermont-Ferrand: Anaël Lardy 5 (6 assists), Claire Tomaszewski 7, Guiday Mendy 5, Jennifer Butler 2, Pauline Krawczyk 11, Claudia Das Neves 22 (7 assists), Vita Kuktiene 17, Noémie Lemaire DNP, Elena Nikipolskaia 16
Mondeville 66-53 Mourenx (17-9, 21-23, 15-8, 13-13)
Mondeville: Paoline Salagnac 11, Milica Dabovic 2, Ingrid Tanqueray 2, Jennifer Digbeu 13 (12 rebounds), Lenae Williams 19, Meredith Alexis 8, Naura El Gargati 8, Pauline Jannault 3
Mourenx: Virginie Kévorkian 4, Isis Arrondo 0, Géraldine Devaux 0, Justine Agbatan 4, Enjoli Izidor 2, Ana Lelas 10 (7 assists), Béatrice Castets 14, Marion Pujos DNP, Kaayla Chones 7, Polina Tzekova 12
---
Lattes-Montpellier 69-65 Tarbes (26-15, 11-22, 17-11, 15-17)
Montpellier: Katia Manic 5, Grace Daley DNP, Chris Jouandon 4, Gunta Basko 22, Aurélie Bonnan 2 (7 assists), Sandra Dijon 10, Elodie Bertal 12, Charline Servage DNP, Marlyse Guerra DNP, Gaëlle Skréla 14, Manon Vierne DNP
Tarbes: Kristen Mann 13, Fatima De Camacho 1, Laure Savasta 6, Clémence Beikes 9, Carole Leclair DNP, Alexia Kusion 0, Liz Moeggenberg 14, Isabelle Yacoubou 6, Gisela Vega 16
Reims 68-66 Challes (14-26, 20-13, 19-14, 15-13)
Reims: Amélie Fresnais 0, Anne-Sophie Pagnier 0, Mame Marie Sy 20, Anne-Marie Parau 10, Stéphanie Blanquart DNP, Marie-Frédérique Ayissi 4, Manon Sinico 2, Zuzanna Klimesova 8, Mia Fisher 12 (5 assists), Marie-Laure Fleury-Kindoki 12
Challes: Tiffany Jackson DNP, Claire Vanhoutreve DNP, Laina Badiane 2, Emilie Duvivier 14, Slavka Frniakova DNP, Stéphanie Dubois 5, Johanne Gomis 7, Martina Luptakova 14 (10 rebounds), Jessica Davenport 24, Marie Bacquet 0, Laure Coutaz 0
Saint-Amand 64-68 Aix-en-Provence (15-14, 10-13, 21-18, 18-23)
Saint-Amand: Tiffany Stansbury 16, Marie Fouteret 0, Mélanie Plust 7, Clarisse Costaz 3, Fanny Ploegaerts DNP, Tamara Moore 12, Laëtitia Kamba 7, Inès Ajanovic 13, Olena Ogorodnikova 6, Melissa Washington 0
Aix: K. B. Sharp 22, Joyce Cousseins-Smith DNP, Liad Suez-Karni 0, Ines Kresovic 11, Magali Lacroix 10, Yacine Sene 7, Anda Jekabsone 18, Stéphanie Beuzelin 0
Return from LFB News to "What's New" page
Return from LFB News to Basketball LFB News
Return from LFB News to home page
LFB news pictures are courtesy of the Ligue Féminine de BasketBall

Date: 02 February 2008
Last update: 03 February 2008
---