Aix-en-Provence, playing at home, were only able to keep up with Mondeville for three minutes (6-6). Back-to-back three-pointers from Lenae Williams set Mondeville on their way. With Caroline Aubert closing the first period with a trey the guests had already a 10-point lead (18-10).
Williams continued to hit shots from long distance as Mondeville put 20 points between themselves and their hosts by the interval (41-20).
Mondeville's inside players were not having a good day and allowed their opponents with Magali Lacroix and Anda Jacobsone to dominate the paint. Aix could reduce their deficit during the third period (42-56).
Williams top-scored with 31 points including 8-of-13 from beyond the arc. Mondeville finished with 15-of-27 from three-point territory. Lacroix scored 20 points for Aix-en-Provence.
Reims do the double over Clermont-Ferrand
Clermont-Ferrand led in this match for only 1 minute when they opened the match with a trey (3-0). Then they were hit for 12 points by their guests Reims (12-3). Two time-outs for the hosts did not help them much as Reims dominated the first period (22-13).
Reims were unable to maintain the rhythm of the first ten minutes and were hit 7-0 to start the second period. With Mia Fisher and Zuzanna Klimesova, well guarded after their first-period exploits, it was the turn of Anne-Sophie Pagnier to come up with the goods. She obliged with three shots from the land of many as Reims regained control and went into the interval leading (40-30).
Fisher was once again active at the start of the third period for Reims while Jennier Butler from Clermont was starting to dominate the boards.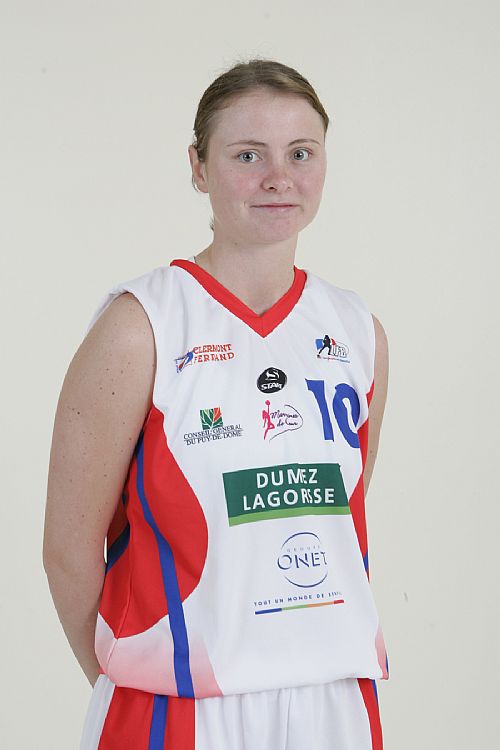 Elena Nikipolskaia and Pauline Krawczyk (left) gave the home supporters hope as they countered their guests with Claire Tomaszewski hitting a trey (42-49). It appeared that Clermont would make up their deficit.
Reims though, who had become more collective in recent weeks, had Marie-Laure Fleury-Kindoki and Amélie Fresnais stepping up with a trey to restore Reims' advantage going into the final period (61-48).
Anne-Marie Parau, having a good game distributing the ball, decided to get in the action offensively by putting the first points on the board in the last quarter. Parau and Fisher were then called upon to use their pace to draw fouls: It worked as Butler was taken out of the action and eventually Elena Nikipolskaia fouled out for the hosts.
Clermont had no answer and Reims continued to visit the free-throw line (76-62). Pagnier ended the free-throw sequence with a 3-pointer and Mame Marie Sy completed the scoring with a steal right at the end (82-61).
For Reims all the players that entered scored with five of them in double digits with Fisher leading with 16 points. Parau dished out 6 assists and Sy compiled a double-double. Pagnier hit 4-of-6 from the land of many while Klimesova scored 12 points.
For Clermont-Ferrand Elena Nikipolskaia scored 14 points.
---
---
LFB news round 15: results and points
Bourges Basket 63-30 Mourenx (19-13, 21-6, 16-6, 7-5)
Bourges: Sonja Petrovic 6, Belinda Shell DNP, Cathy Melain 4 (7 assists), Endene Miyem 10, Ana Cata-Chitiga DNP, Céline Dumerc 4 (9 assists), Carine Paul 6, Sonja Kireta 12, Florence Lepron 6, Emméline Ndongue 2, Nora Bujdoso 13
Mourenx: Virginie Kévorkian 4, Isis Arrondo 0, Géraldine Devaux 2, Justine Agbatan 0, Enjoli Izidor 1, Ana Lelas 16 (10 rebounds), Béatrice Castets 0, Marion Pujos DNP, Kaayla Chones 3, Polina Tzekova 4
USVO 79-56 COB Calais (22-13, 20-13, 16-14, 21-16)
USVO: Camille Aubert DNP, Laurie Koehn 23, Francesca Zara 13 (6 assists), Sarah Michel DNP, Doriane Tahane 1, Amélie Pochet 5, Emilie Gomis 16, Krissy Bade 5, Sabrina Reghaïssia 4, Nicole Ohlde 2 (11 rebounds), Reka Cserny 10
Calais: Andrea Csaszar 12, Allyson Hardy 21, Lucie Bouthors 0, Vanessa Candelier 0, Mariame Dia 8, Aurélie Cibert 5, Lina Brazdeïkyte 0, Lauren Neaves 8, Pauline Machu 2
Tarbes 76-63 Arras (9-13, 27-18, 14-18, 16-14)
Tarbes: Kristen Mann 14 (7assists), Fatima De Camacho 5 (5 assists), Laure Savasta 3, Clémence Beikes 16 (9 assists), Carole Leclair DNP, Alexia Kusion DNP, Liz Moeggenberg 2, Isabelle Yacoubou 9, Gisela Vega 27
Arras: Julie Bertin 2, Carla Thomas 14 (11 rebounds), Bianca Vescan DNO, Sheana Mosch 15, Elzbieta Miedzik 2, Natasa Ivancevic 10, Sylvie Gruszczynski 8, Mélanie Arnaud 0, Marielle Amant 9, Anais Déas 3
Challes-les-Eaux 71-61 Villeneuve (18-16, 15-16, 15-16, 23-13)
Challes: Tiffany Jackson DNP, Claire Vanhoutreve DNO, Laina Badiane 14, Emilie Duvivier 9 (5 assists), Slavka Frniakova 0, Stéphanie Dubois 2, Johanne Gomis 6, Martina Luptakova 22, Jessica Davenport 16 (10 rebounds), Marie Bacquet 2
Villeneuve d'Ascq: Bintou Diémé 9, Bénédicte Fombonne 5, Jucirama Dantas 9, Luba Drljaca DNP, Géraldine Robert 8, Kathy Wambe 2 (5 assists), Fatimatou Sacko 11, Shala Crawford 4, Jasmina Ilic 13
Lattes Montpellier 67-59 Saint Amand 16-13, 17-12, 23-35, 11-9)
Montpellier: Katia Manic 10, Grace Daley DNP, Chris Jouandon 2, Gunta Basko 11 (5 assists), Aurélie Bonnan 15 (17 rebounds, 7 assists), Sandra Dijon 8, Elodie Bertal 10, Charline Servage DNP, Marlyse Guerra DNP, Gaëlle Skréla 11, Manon Vierne DNP
Saint-Amand: Tiffany Stansbury 13, Marie Fouteret 0, Mélanie Plust 5, Clarisse Costaz 6, Fanny Ploegaerts DNP, Melissa Washington 3, Laëtitia Kamba 0, Inès Ajanovic 23, Olena Ogorodnikova 7
Aix 58-81 Mondeville (8-18, 13-23, 21-15, 16-25)
Aix: K. B. Sharp 4 (5 assists), Joyce Cousseins-Smith 0, Liad Suez-Karni 7, Ines Kresovic 7, Magali Lacroix 20, Yacine Sene 2, Anda Jekabsone 13, Stéphanie Beuzelin 5
Mondeville: Paoline Salagnac 8, Caroline Aubert 14 (11 assists), Ingrid Tanqueray 0, Jennifer Digbeu 9, Lenae Williams 31, Meredith Alexis 0, Naura El Gargati 9, Pauline Jannault 10
Clermont-Ferrand 62-81 Reims (13-22, 17-18, 18-21, 14-20)
Clermont-Ferrand: Anaël Lardy 10, Claire Tomaszewski 6, Guiday Mendy 2, Jennifer Butler 6 (12 rebounds), Pauline Krawczyk 12, Claudia Das Neves 7 (6 assists), Vita Kuktiene 5, Noémie Lemaire 0, Elena Nikipolskaia 14
Reims: Amélie Fresnais 5, Anne-Sophie Pagnier 13, Mame Marie Sy 12 (10 rebounds), Anne-Marie Parau 10 (7 assists), Stéphanie Blanquart DNP, Marie-Frédérique Ayissi DNP, Manon Sinico 4, Zuzanna Klimesova 12, Mia Fisher 16, Marie-Laure Fleury-Kindoki 9
Return from LFB News to "What's New" page
Return from LFB News to Basketball LFB News
Return from LFB News to home page
LFB news pictures are courtesy of the Ligue Féminine de BasketBall and basquetebol.org

Date: 27 January 2008
---