Five ejections made LFB news headlines as Mourenx fell to USVO
USVO beat Mourenx (75-48) on Wednesday in a match that turned sour at the 18 minute-mark. USVO were leading (27-16) when Emilie Gomis and Béatrice Castets clashed.
The two players found themselves on the floor after contesting a rebound. While play continued the two player exchanged words. Unfortunately it did not stop there and eventually both players faced up to each other. Neither player backed down and they were now in each other face. The officials had no option but to eject them from the game.
Mourenx were to suffer three other ejections because players on the bench entered the court during the fracas: Virginie Kévorkian, Géraldine Devaux and Justine Agbatan.
USVO were on a 13-0 run just before the incident and then went into the interval leading (31-18). Mourenx had only six players for the rest of the game which included two youth players: Amandine Spina and Marion Pujos. They only had one minute of action between them all season before this match.
Francesca Zara did not suit up for this match giving an opportunity for Camille Aubert to run the point. The match was played out without further incidents.
Arras being three minutes late to make LFB news headlines
Arras have not won again since the beginning of December. Yet with three minutes left in the game leading (70-66) it appeared that they might just hold off Villeneuve d'Ascq.
Without Natasa Ivancevic who was hurt during the match and bad luck on the free-throw line Arras allowed Shala Crawford and Fatimatou Sacko to batter them into submission. So Villeneuve ran out winners (76-73) with Kathy Wambe and Sacko both finishing with 20 points.
Carla Thomas and Sheana Mosch led the offensive battle for Arras with 18 and 19 points each.
Saint Amand are back
Saint Amand's series of defeats ended on Wednesday as they came back from (41-49) at half time to beat Mondeville (90-67).
Saint Amand are a team that tend to hunt in packs of three or four players per match. This game was no different with all the starting five players finishing in double digits.
Mondeville went to sleep in the third period and were punished as they allowed their hosts to win the quarter (29-8). The guests were not able to recover in the final period. This was a defeat that did not please their coach. Olivier Hirsch could not understand how his side allowed a 16-point lead evaporate.
Tiffany Stansbury and Olena Ogorodnikova scored 23 and 22 points respectively for the home side. Saint Amand moved into fifth place and are just one game down on Mondeville. Lenae Williams scored 19 points including 4-of-8 from beyond the arc for Mondeville.
With Bourges, USVO and Montpellier clear at the top of the table, the battle for fourth place will be the LFB headline news when LFB action resumes on the 8th March. Six clubs are battling out for the last championship play-off position with Mondeville, Saint Amand, Reims, Clermont-Ferrand, Challes-les-Eaux and Villeneuve d'Ascq.
LFB news from Challes-les-Eaux
Dee Dee Wheeler's time at Challes did not last long. She has already returned home. Wheeler came to France with an injury and was not really physically fit to play.
In the meanwhile Challes have signed Marlous Nieuwveen, a Dutch international, who has played in the LFB before with Tarbes in 2003. She is the official replacement for Tiffany Jackson.
Chandi Jones has joined the club and will take over the role of Slavka Frniakova.
Other LFB news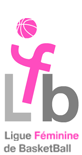 Alix Keita (19 years), a youth product from Aix-en-Provence, has been added to the club's LFB roster.
Arina Lysyuk (18 years) has joined Arras. She is on loan from Dynamo Moscow until the end of the season.

Bourges Basket's Euroleague Women quarter-final first match against Fernerbahce will be screened live by Sport + (French cable TV) on Tuesday at 19:30 (GMT). The second match will also be shown but not live next Friday at 21:15 (GMT).


There is no rest for Lattes Montpellier as they have fixed two friendly matches:
27 February (15:00 GMT) against Tarbes: to be played at the Palais at Toulouse
28 February (19:00 GMT) against Aix-en-Provence: to be played in Montpellier

Return from LFB News to "What's New" page

Return from LFB news to LFB Basketball News


Pictures are courtesy of the Ligue Féminine de BasketBall


Date: 23 February 2008
---