LFB match: Bourges down Reims after second-half demonstration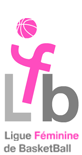 Before this LFB match got underway Bourges' travelling supporters were in loud voice and making their players feel at home.
Céline Dumerc
led her side's warm up although she was not on the start sheet.
Endéné Miyem
was presented with a bouquet of flowers before the match - she started her career at SJS Reims before moving to the CFBB and later on to Bourges and is well known in the community.
Reims 54-74 Bourges (13-20, 18-13, 6-17, 17-15)
Anne-Marie Parau
put the first points on the board for Reims after a patient build-up from behind the arc.
Sonja Kireta
for Bourges responded almost immediately with a simple tap-in after a Reims defensive mix-up. The match was played at a high tempo with Bourges making good use of their hight advantage in the early exchange (12-9).
Carine Paul
was called into action and took control of the point for Bourges and showed in a couple of actions that she has been growing into the role with a trey but she impressed even more when she hit a running jump-shot just when the 24-second-shot-violation buzzer went (19-11). Reims' only solution was for Parau to go one on one as Bourges closed the first quarter up (20-13). At the beginning of the second period
Zuzana Klimesova
got the ball rolling with an early basket from mid-distance. Reims' inability to penetrate the zone allowed Bourges to restructure: their physical strength in the inside game resulted in
Emméline Ndongue
getting sent to the foul line and after missing the second free-throw Nora Bujdoso picked the ball up and scored again for Bourges (23-15). Then Cathy Melain from Bourges ventured into the paint and also drew a foul. Philippe Sauret reacted immediately and called for a time-out. This unsettled Melain afterwards for her free-throws. Reims went on the offensive and matched Bourges basket for basket for the rest of the quarter.
Mia Fisher
inspired her team-mates by playing big at both ends of the court. Reims' offensive effort ended at the interval with a 2-point deficit (33-31). Bourges'
Belinda Snell
warmed up quickly after the break and was more in evidence: her first points came from the foul line and a few moments later she received a nice pass from
Florence Lepron
and with her characteristical quick release hit a trey (41-33).
Sonja Petrovic
completed the 11-2 run with a backboard trey. Reims continued to battle but the ball refused to drop with only a trey and a free-throw to show for their efforts as Bourges increased the gap (51-37). The Reims' nightmare did not stop as first Melain finished a move to hit a baseline-corner trey quickly followed by a Miyem's lay-up to finish a fast break. Bourges went into the last period of this LFB match with a comfortable advantage (59-37).
Ana Cata-Chitta
only started playing for Bourges in the final period and immediately backed her team with her hight. Yet Reims did not give up their courage but their will was not enough to dent Bourges' advantage (65-44) and with Miyem picking up offensive rebounds and converting them into second-chance points Reims were at a loss. It is true that Reims are not the tallest of teams but do not mention that to Mame Marie Sy who picked up 11 rebounds. With Parau failing to score after the interval Reims' main offensive thread was Fisher, which was not enough to trouble Bourges. Pierre Vincent spread the playing time of his players with nobody playing more than 27 minutes as his side wrapped up a convincing advantage with everybody scoring (74-54).
---
Comments after the LFB match:
Philippe Sauret
said that Bourges were playing at a higher level and made it difficult for them to get into the LFB match. He also reckoned that his players should have taken on more responsibilities, especially the young ones. Whereas
Pierre Vincent
, Bourges' head coach, was ready for the lively Reims' team. His objectif was to defend hard and take their opponents out of their stride. This was achieved during the second half of the match.
Céline Dumerc
(picture below) was pleased with her team's performance after a hard week on the road and made the following comments of the match: Reims were playing interesting basketball and as they had nothing to loose gave Bourges a hard time in the first half of the match. Then her team picked up and imposed their style. It was also difficult for Bourges as they had only just returned from their EuroLeague game (Spain).

Listen to Céline's comments in French
(Note: If you are using Internet Explorer click twice on the triangle)




LFB match statistics:

Reims: Amélie Frenais 0, Anne-Sophie Pagnier 0, Mame Marie Sy 4 (11 rebounds), Anne-Marie Parau 12 (5 assists), Frédérique Ayissi 8, Manon Sinico 3, Zuzana Klimesova 12, Mia Fisher 15
Bourges : Sonja Petrovic 8 (5 assists), Belinda Snell 5, Cathy Melain 6, Endéné Miyem 13, Ana Cata-Chitiga 4, Carine Paul 5, Sonja Kireta 8, Florence Lepron 9, Emméline Ndongue 8, Nora Bujdosa 8

Return to LFB round six summary

Return from LFB Match to LFB Information Directory