LFB match 7: Bourges - Calais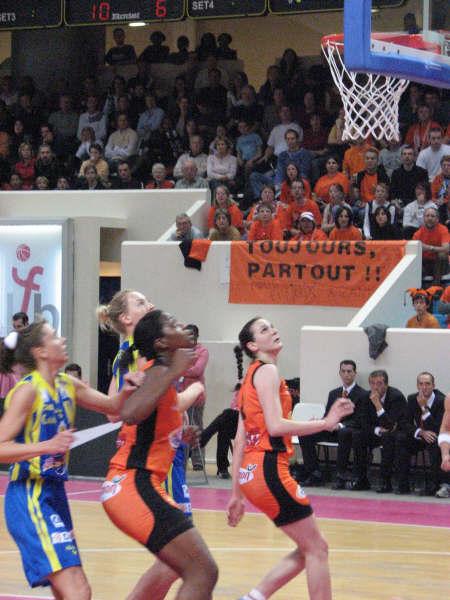 LFB Match 7
The last match of the LFB Open with Bourges against Calais started lively and exciting. It was Sonja Petrovic who opened her account in the LFB with the first points of the game. The game was fast and furious from the off with Bourges having the better during the early exchanges (10-6). Calais unsettled Bourges with their fast breaks and moments of inspiration by Aurélie Cibert and Allyson Hardy to keep in contact with their opponents (15-13). The game remained close with Bourges holding onto the advantage at the end of the first period (19-16).
Both sides continued to trade basket for basket with Bourges still in the lead (30-28) mid-way through the second quarter. Sonja Kireta started to dominate the boards at both end of the court and Bourges put together a 7-point run to open the first significant advantage in the match. Calais refused to be intimidated and kept coming back. Bourges' experience on the fast breaks enabled them to extend their lead (42-34).
Bourges was a complete different team after the interval and moved the ball around quickly and used all their offensive options to open the first big gap of the game (52-38). Cyril Sicsic called a time-out to stop the onslaught. On resumption Cathy Melain from Bourges said thank you very much for the break and scored her only points in the match from the land of many. The rest of the period was rather flat with Bourges setting up interesting 3-point plays for Belinda Snell as they maintained their advantage going into the final period (65 -50).
The fourth quarter was just a simple formality for the ladies of Pierre Vincent as he decided to experiment with his LFB roster by swapping players' positions with Carine Paul as point guard while Nora Bujdoso was asked to lead the offensive charge as Bourges went to win comfortably (89-63).

Return from LFB Match 7 to LFB Day 2