LFB match 6: Challes-les-Eaux - Mondeville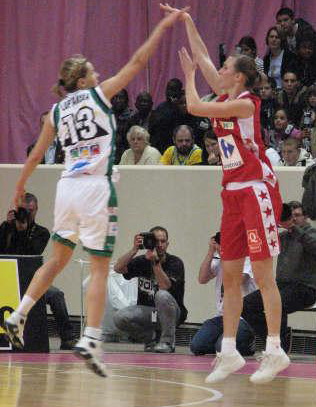 LFB Match 6 - Luptakova - Jannault
After a comedy of errors round the basket in the first three minutes of the second LFB match of day 2 from Basket and the City by both teams: Challes-les-Eaux and Mondeville, the scoreboard finally came into action off a jump shot from Jennifer Digbeu. Still scoring was difficult in the first stanza of this match as neither side was able to assert their authority. Challes-les-Eaux took advantage of their opponent's turnovers to take an early lead (9-5). Mondeville only had one offensive option with Digbeu who scored the first 8 points for her side as Challes won the first period (14-10).
Pauline Jannault put Mondeville in front (15-14) with a 3-pointer as her side took control of affairs in the second period. The lead changed three times during the rest of this quarter with Challes going into the break leading (26-22).
Caroline Aubert and Lena Williams opened the 3rd period within 40 seconds with successive 3-pointers to put Mondeville back in front. Challes-les-Eaux, more collectively than their opponents, showed no sign of pand and regained the lead with Jessica Davenport causing havoc in the paint. Hence they extended their advantage (40-34). In this yoyo match Mondeville went on the offensive and regained the lead only for Challes to shift up a gear and finish the period with a 7-point lead (50-43).
Challes had multiple offensive options and added 5 more points at the start of the final period to give themselves a big advantage (55-43). Tiffany Jackson, less spectacular than Davenport, caused Mondeville all kinds of problems as they were now forced to chase the game down.
Challes who did not require to score from outside the paint took their time working the ball inside to maintain their advantage (68-57). With the game in money time they had no problems in keeping their opponents in check and won (74-59).

Return from LFB Match 6 to LFB Day 2