LFB match 5:
Clermont-Ferrand - Villeneuve D'Ascq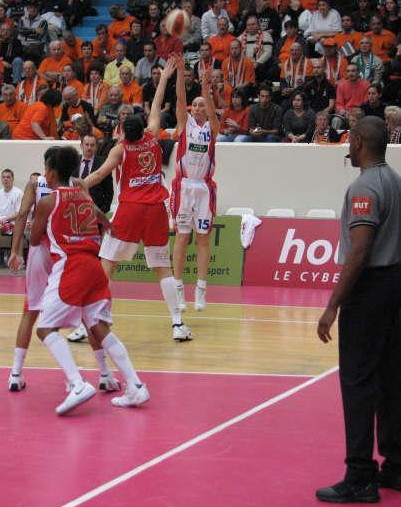 LFB Match 5 - Elena Nikipolskaia in full flight
The first LFB match of the second day of the Open started with Villeneuve who quickly got into their rhythm with Kathy Wambe providing the acceleration as they raced to an early lead (15-4). Abdou N'Diaye used this early opportunity to turn his bench but was not too happy with their progress and called a time-out. Shala Crawford did not make him feel any better after picking up her 3rd personal foul with only eight minutes on the game clock. Clermont-Ferrand used this moment to work themselves into the game but still trailed (20:13) at the end of the first period.
Clermont-Ferrand scored the first 7 points in the second period to tie the game (20-20). Pauline Krawczyk put Clermont in front for the first time in the match with a 3-pointer. Vita Kuktiene quickly followed this up with a second trey. Wambe's reaction was immediate with a jump shot followed up with a nice pass to Jasmina Ilic for Villeneuve to tie the game at (26-26). Iveta Marcauskaite restored the lead with a trademark trey from the top of the arc. Bénédicte Fombonne followed up with another trey which was Villeneuve's last score of the period. he Clermont-Ferrand finished the period with an 9-0 run including treys for Claire Tomaszewski and Claudia Das Neves as they headed to the locker room leading (40-32).
Wambe was very aggressive at the start of the 3rd period scoring 11 points and brought her side to within 1 point of their opponents (42-41). Krawczyk put an end to the Villeneuve run as she hit her second from the land of plenty and added 15 points to her account. Clermont then took control of the game with clutch 3-point shooting to increase their lead (52-46) and before the start of the final period up to 12 points (60-48).
The last quarter was tame compared with the fireworks of the 3rd one. Clermont dictated the pace of the match. Villeneuve wasn't able to recover from the shoot-out of the last period and left the way free for Clermont (72-58).

Return from LFB Match 5 to LFB Day 2