Reims 76-63 Tarbes (19-20, 23-17, 18-15, 16-11)
A match report in French can be found on this site here

No time of pleasantries as both sides quickly went on the offensive. Mia Fisher opened the scoring on Reims' first attack. Laure Savasta responded almost immediately with a trey for Tarbes. Reims struggled inside the paint, so resorted to fast breaks while Tarbes worked both alternatives. Both teams continued to exchange basket for basket with the home side holding the early advantage (6-5). After Fisher picked up two quick fouls and was replaced by Anne-Sophie Pagnier. Her injection of pace suited Zuzanna Klimesova who found space to hit a couple of mid-distance jumpers (16-11).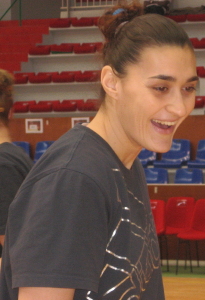 Gisela Vega (left) was causing Reims all types of problems in the paint and with Kristen Mann finding her mark quickly brought the deficit down.
Amélie Fresnais's tenacity in drawing fouls gave the hosts the edge but a Mann baseline trey at the buzzer gave Tarbes the advantage at the end of the first period (20-19). The lead changed three times at the start of the second quarter as both teams went on a series of back to back scores. The game was tied (26-26) after a Anne-Marie Parau trey (26-26).
Reims opened the first significant gap of the match with another trey by Parau (34-27) to take the lead for good. Yet Vega was on hand to bring Tarbes back to within 2 points as she continued to dominate the paint (34-32). Reims found another breath of wind with Fisher and Pagnier and extended their advantage (39-34). In one of the games' funniest scenes Fisher attempted a jump shot, only to find herself on the floor after being knocked flying by Mann. Tarbes exploited Reims' weakness in the paint with Vega and Clémence Beikes and were again back to within two points after a baseline jumper by Liz Moeggenberg (39-37). Parau sent Reims into the interval with a 5-point lead after nailing her third trey of the period and her 13th point of the game (42-37).
Unfortunately Parau (left) picked up two quick fouls and had to return to the bench. The home fans were not impressed by some of the officiating as players and coaches started to contest decisions. With Parau out of the equation Fisher and Klimesova took up the responsibility of keeping Reims in front by scoring 10 and 8 third-quarter points respectively. But the move of the third period belonged to Beikes as she fought under the basket to knock off the challenge of two Reims players to reverse a lay-up. Tarbes, only trailing by 3 points (48-45) at this stage, succumbed to Reims' clutch mid-distance shooting. So Reims went into the final period leading (60-52).
Having difficulties scoring Tarbes changed their offensive system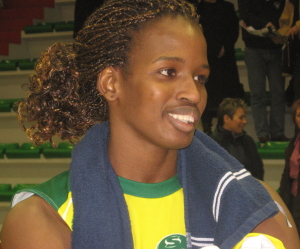 Reims' head coach, Philippe Sauret, picked up a technical as his running battle with the officials continued. Mann converted the free-throws but Reims hit back on the very next possession with a running jumper by Fisher to conclude a fast break. Mame Marie Sy (left) and Frédérique Ayissi showed their defensive qualities as they forced Tarbes into a 24-second violation. Reims, playing small, started to find holes in the Tarbes' defence and increased their advantage (67-56). With Vega having difficulties scoring Tarbes changed their offensive system with Beikes and Savasta trying to run behind the Reims defence. It was a risky strategy that did not work and left them open to fast breaks. Reims scored 6 quick points (73-58) and put an end to this approach by Tarbes. Tarbes looked out of sorts and with a rotation of seven players had nothing more to offer. Hence the guests left the game for Reims (76-63).

Reims: Amélie Fresnais 3, Anne-Sophie Pagnier 5 , Mame Marie Sy 11 , Anne-Marie Parau 18 , Stéphanie Blanquart DNP, Marie-Frédérique Ayissi 3, Manon Sinico 0, Zuzanna Klimesova 16 , Marie-Laure Fleury-Kindoki 2, Mia Fisher 18 Tarbes: Kristen Mann 12, Fatima De Camacho 2, Laure Savasta 5, Jaklin Zlatanova 1, Clémence Beikes 11, Carole Leclair DNP, Alexia Kusion DNP, Liz Moeggenberg 8, Isabelle Yacoubou DNP, Gisela Vega 21

Isabelle Yacoubou who is still recovering from her injury and operation confirmed after the match that she will make her competitive comeback on coming Thursday in EuroCup Women.You can listen to her confirmation in French.

(Note: If you are using Internet Explorer click twice on the triangle)

---
LFB match Comments section: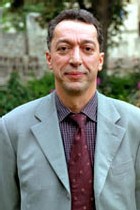 Philippe Sauret, the Reims head coach was satisfied with the total performance of his team and that the players were back to their best. He was pleased that Anne-Marie Parau was taking 3-point shots like she did in the beginning of the season. Concerning Mia Fisher, she gave a performance similar to what she has been doing in training, her work in defence including taking important defensive rebound and also becoming an offensive leader. Last but not least the unselfish work of Mame Marie Sy and Marie-Frédérique Ayissi. Sauret LFB match comments are in French.

(Note: If you are using Internet Explorer click twice on the triangle)

---
François Gomez, the Tarbes head coach was full of praise for the way Reims played for the whole game. Once Reims settled into their stride, it then became difficult and that was it Tarbes Today. The preparation was not good this week and with a EuroCup match the time to train and work on group fundamentals was not available. The end result in the game was very little team work and an excessive amount of individual actions. He concluded that when a team loses as many matches as Tarbes and then fall behind in a match they tend to find it difficult to comeback. Gomez LFB match comments are in French.

(Note: If you are using Internet Explorer click twice on the triangle)

---
Amélie Fresnais was happy with her personal performance today and content that she was able to do finally display her capabilities. She hopes that as a team they continue to play in the same manner as it resembled how they played in the beginning of the season; collectively sound and defensively strong.
Fresnais LFB match comments are in French.

(Note: If you are using Internet Explorer click twice on the triangle)

---
Frédérique Ayissi expressed her joy at winning again, she went on to explain that they had gone through a bad batch and as a result it was becoming difficult to get motivated for games. But today everything returned to normal, it was a case of back to basics and it work. She is looking forward to next game against USVO, one of the top clubs in the country. Frédérique Ayissi LFB match comments are in French.

(Note: If you are using Internet Explorer click twice on the triangle)

---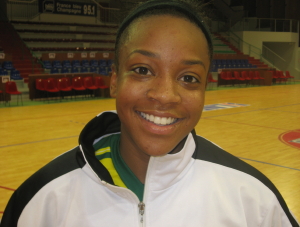 Mia Fisher explained in English that the way they played in the game was a reflection on the week's work.

(Note: If you are using Internet Explorer click twice on the triangle)

---
Return from LFB Match to "What's New" page
Return from LFB Match to Basketball LFB News

Date: 13 January 2008
---