LFB Challenge Round final first leg goes to Tarbers
---
---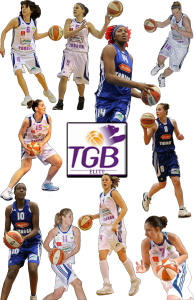 The prize for winning the LFB Challenge Round is a place in the FIBA Europe EuroCup Women 2008-2009 competition. Tarbes' only chance of European Basketball next season is to win this competition.
They will go into the second leg with a 13-point advantage after their victory against Clermont-Ferrand in the first match of their two match series.
The first three quarters of this match was end to end basketball with the lead changing several times with neither side able to take total control.
Clermont opened the hostilities by scoring the first 4 points of the match. Tarbes were soon in the match as they knocked in a pair of three-pointers to tie the match (6-6). The teams continued to play cat and mouse until (13-13).
Clermont had the better of the last four minutes of the first period and with Jennifer Butler not only dominating the boards but scoring a few points, they went ahead (25-20) after the first period.
Tarbes were back on level terms (28-28) early in the second quarter as Isabelle Yacoubou and Gisela Vega started to throw their weight about inside the box. For the rest of this period Tarbes exchanged basket for basket with the guests from Clermont-Ferrand leading at the interval (41-38).
The third period continued in the same way as the previous one with Tarbes drawing level again and even leading briefly before Clermont regained control to finish in front by the end of the third period (61-57).
Liz Moeggenberg, having a good time at the moment, hit 7-of-9 (21 points) from the field including 3 from the land of many. She and Kristen Mann got the ball rolling for Tarbes in the final period as they hit their guests 16-0 to take control of the game (73-61) with less than four minutes on the clock.
The remaining three minutes were less exciting compared to the previous 37 minutes as both sides made various trips to the free-throw line.
Vega scored the last 4 points of the night from the free-throw line to give Tarbes a nice lead for the second match (80-67). Vega finished with 18 points with 10 coming from the charity stripes.
For Clermont-Ferrand the loss of Pauline Krawczyk with five fouls during the final period did not help their cause. Furthermore as the story of the night Clermont picked up 23 team fouls to their opponents 12 for the match.
The second and final match of the LFB Challenge round will be played on Friday.
LFB Challenge Round Box Score Box Score
Return from LFB Challenge Round to "What's New" page
Return from LFB Challenge Round to Basketball LFB News
Look back at the semi-final second leg
Date: 06 May 2008
---