FIBA World Championship game report:
USA had it easy
---
---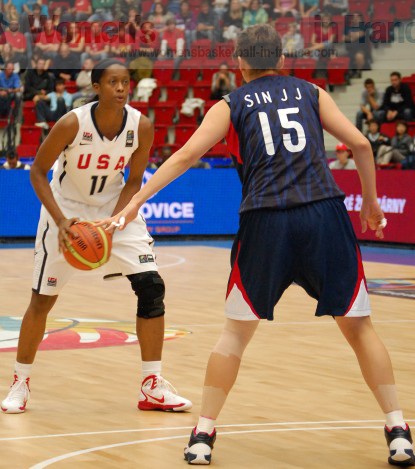 Korea's FIBA World Championship has been marred with injuries to key players. So in the second quarter-final game they were no match for the USA.
The match as a contest was over in the first quarter with the USA leading (28-11).
Sue Bird, the only American not to score in this match, explained after the game that the USA were getting better and better and that they were looking forward to the semi-final.
The top scorer for the USA was Angel McCoughtry with 17 points. Maya Moore contributed 15 points while Candice Dupree added 12 points. The twin towers Sylvia Fowles and Tina Charles both scored 10 points each.
The USA are the only team in this World Championship with a perfect record.
For Korea Yung Hui Lim was the only play in double digits with 10 points.
You can read a more detailed game report below.
USA qualify again for another World Championship semi-final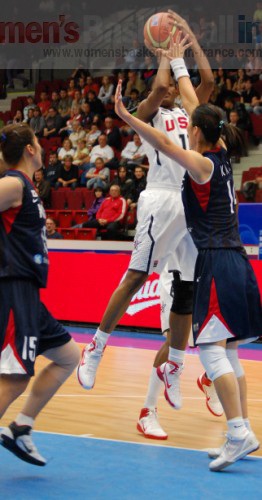 The USA were quickly into their stride with Tamika Charles opening the score. This was quickly followed by back to back scores from Tina Charles.
Finally Summin Jung got Korea off the mark.
Charles continued her one-lady demolition act before the rest of her team-mates joined in as the USA went on a 15-4 run to lead (25-8) with nine minutes to play.
Ha Yeon Beon fired a three-pointer for Korea. But it was Lindsey Whalen who had the last say in the quarter with the last 3 points for the USA (28-11).
The USA were playing in cruise control and dominated the Koreans in all areas of the game to go into the interval leading (48-22) with all 12 players having been on the court for at least three minutes.
It was one-way traffic for the whole of the third quarter with the USA going into the final quarter further ahead (83-29).
Ashija Jones scored the 100th point for the USA as they went on to win comfortably (106-44).
---
Summary of day 7 at the FIBA world Championships
Return to FIBA World Championship page
GO Back to the top of the page
---
FIBA World Championship picture credit:
womensbasketball-in-france.com
Date created: 01 October 2010
---