First tears at the FIBA World Championship
---
---
The Brno Arena has staged a number of dramatic games at the 2010 FIBA World Championship for Women. The fans were not disappointed on day 3.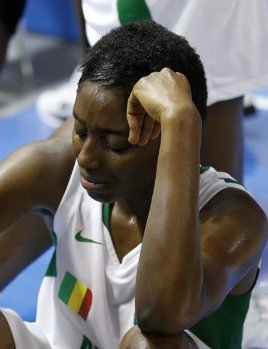 In Group C Mali had the chance to win their first game of the championship in regulation time against Korea.
Somehow they fumbled the opportunity and the game went into overtime.
In overtime Mali had the opportunity to tie the game but once again they let the chance go. Korea escaped and went on to win (68-66).
Diana Gandega (right), who is known on the street ball scene in France, was in tears after the match.
Korea, who have four players hurt, had to play the game with just eight players. They led by 17 points at one stage in this match and have to thank Yeon Ha Beon who scored 21 points.
With this defeat Mali must play in the classification round.
Spain were slow out of the starting blocks against Brazil. They had to wait until the second quarter to take control of the game (37-23).
Their defense did the rest as they notched up victory number 3 for this competition (69-57) with Amaya Valdemoro leading the scoring with 17 points.
Group C results:

Mali 66-68 Korea
Brazil 57-69 Spain
Group D: No luck for Argentina
The Czech Republic were made to run in their encounter against Japan. In their victory Ilona Burgrová led the scoring for the Czech Republic with 14 points, while Yuko Oga fired in 22 points for Japan.
Russia did not allow Argentina a chance to get in this game by dominating the first quarter (23-12).
Irina Osipova finished the game as top scorer with 20 points as Russia finished the first phase undefeated.
Group D results:

Japan 60-66 Czech Republic
Argentina 59-77 Russia
---
Return to FIBA World Championship page
GO Back to the top of the page
---
picture credit:
FIBA
Date created: 25 September 2010
---