FIBA World Championship drama in Brno
---
---
On the second day of the preliminary round of the FIBA World Championship for Women in Brno D sees
Russia
holding off the Czech Republic (55-52) to remain unbeaten in Group D.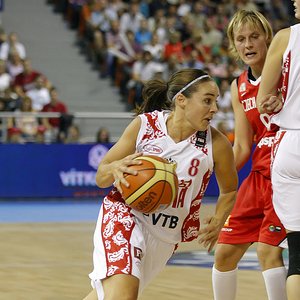 However the Russian head coach, Boris Sokolovskiy, was not satisfied with his team's performance against the Czech Republic because of turning the ball over 26 times.
Becky Hammon (left) top scored for Russia with 13 points.
"It was a very difficult game," said Hammon, who was the only Russian player to finish in double figures with 13 points.
The match came to its climax in the last 25 seconds with the Czech Republic chasing the game. Hammon was called for an unsportmanlike foul on Hana Horakova.
Horakova split the pair, leaving her side with a possible three-point play to tie the game. But with nine seconds to play Ilona Korstin from Russia got the ball away from Ilona Burgrova.
However the Czech Republic managed to foul Irina Osipova to stop the game clock.
Osipova missed both free-throws. Horakova won the rebound for the Czech Republic and somehow got a shot off. But it fell short and the game was over.
---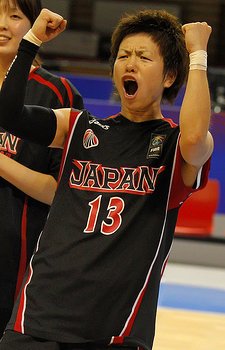 Yuko Oga's (left) shot at the buzzer enabled Japan to win their first match in a dramatic fashion.
They led (51-42) early in the fourth quarter. Yet Argentina came storming back to go in front with 3:07 for Florencia Fernandez to jump shoot.
The lead changed hands no less than four times as both sides went all out for the win.
Argentina had the advantage with 50 seconds left to play leading (58-57).
With one second left to play, Japan had to inbound the ball. They gave it to Oga who fired off a shot that went in for her 21st point of the match.
Despite Argentina contesting the basket the officials did not agree.
Group D results:
Argentina 58-59 Japan
Russia 55-52 Czech Republic

---
Spain were pushed hard by Korea for 35 minutes before pulling away with an 18-9 finish to win (84-69) to book their ticked into the next phase of the FIBA World Championship for Women.
Sancho Lyttle was once again the match winner for Spain with 28 points.
Korea had four players in double digits with leading the way with 23 points.
In the other game Mali pushed Brazil all the way before running out of energy during the final two minutes.
Group C results:

Spain 84-69 Korea
Brazil 80-73 Mali

---
Return to FIBA World Championship page
GO Back to the top of the page
---
picture credit:
FIBA
Date created: 24 September 2010
---