FIBA World Championship:
Belarus surprise Russia
---
---
The 2006 FIBA World Champions runners-up Russia failed to reach the semi-final of the 2010 edition after falling to Belarus in the fist quarter-final.
Belarus fired 7-of-14 from beyond the arc and made a total of 15 steals as they out-fought their opponents in the middle of the court.
Yelena Leuchanka led the scoring with 17 points. However the clutch shooting of Yuliya Dureika with 15 points was the deciding factor in this match.
Natallia Marchanka and Tatyana Troina contributed 11 points each.
Russia who won the battle of the rebounds 40-37, had a poor shooting day. Becky Hammon led the scoring with 16 points and Svetlana Abrosimova scored 14 points as Russia suffered their first defeat of the competition.
You can read our match report below:
The first quarter of he match was lively with Belarus dominating the scoring with excellent perimeter shooting and
Yelena Leuchanka
(left) on excellent form to lead (23-11) at the end of the first quarter.
Becky Hammon and Ilona Korstin tried to bring Russia back into the game but Yeuchanka continued her scoring festival and Anastasiya Verameyenka also helped out for Belarus to stay in front (31-20) with 15 minutes played.
Russia stepped on the accelerator and with treys from Hammon (below) and Svetlana Abrosimova they reduced their deficit to 6 points with 90 seconds left to play before the break.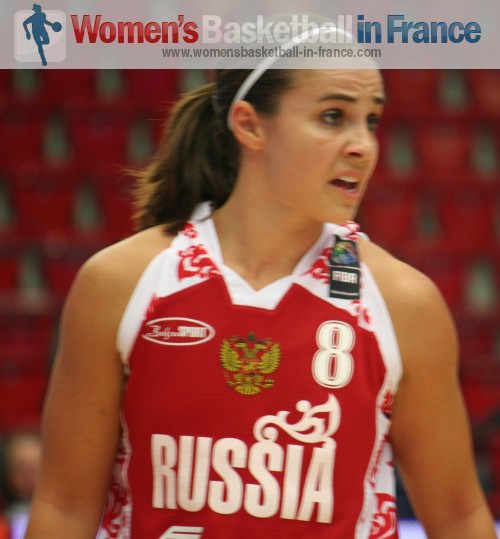 Yet Belarus worked the ball out to Yuliya Dureika who calmly fired in her team's fourth three-pointer of the game to take them into the locker room leading (36-27).
Hammon and Abrosimova brought Russia right back on the tail of Belarus at the start of the third quarter (32-36) but once again Russia left Dureika free.
Dureika fired in back to back treys and Russia were in trouble.
Belarus' physical approach did not allow the Russians a chance. So Belarus went on a 8-0 run to open up a 15-point lead (50-35) going into the final quarter.
Two quick baskets at the start of the final quarter put Belarus 19 points clear (54-35).
Once again Abrosimova and Hammon came to the rescue for Russia with the help of Irina Osipova but Belarus survived the onslaught (45-56).
Tatyana Troina (on the left, next to Leuchanka and Verayemenka) and Natallia Marchanka put Belarus back on track with back to back scores.
Russia were out of ideas and Belarus cruised to victory (70-53).
---
Summary of day 7 at the FIBA world Championships
Return to FIBA World Championship page
GO Back to the top of the page
---
World Championship picture credit:
womensbasketball-in-france.com
Date created: 01 October 2010
---