In this year's edition of the Fiba Europe U18 European Championship Women Division A, there are four groups of four teams in the preliminary round. The competition is held in two venues in Slovakia: Poprad and Spisska Nova Ves.
You can read highlights of the FIBA Europe basketball news from the day's actions by clicking on the links below or by scrolling down the page:


Spain 63-53 Slovak Republic

Sweden 70-67 Slovenia

Russia 66-58 Belgium

Remaining results

---
France 62-61 Ukraine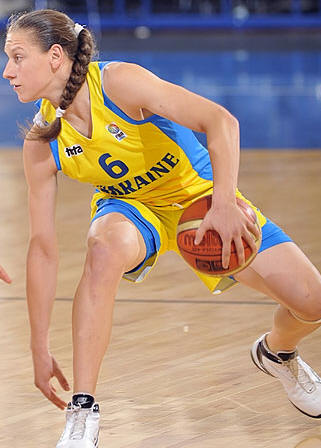 France had it tough playing against a Ukrainian one-player team with Alina Iagopuva (left) scoring 41 of her team's 61 points and also collecting 11 rebounds.
Although the French team had no answer for Iagopuva, they kept the rest of the opponents out of the game.
Top scorers for France were Florine Basque with 17 points, Eléonore Grossemy 12 points while Lucie Barba had a double-double with 11 points and 10 rebounds.
Spain finished stronger to take win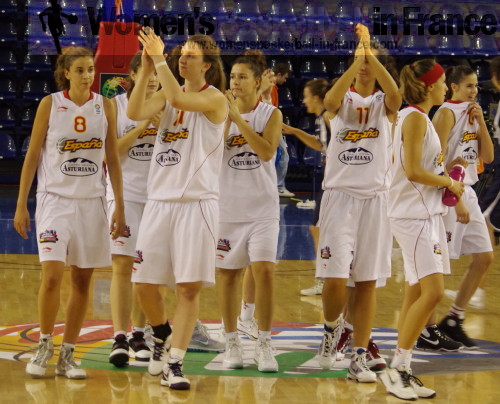 There was not much scoring in the first quarter with Spain trying to break the Slovakian's defense. Yet Spain went into the second quarter ahead (11-8).
The hosts then went onto a 7-0 run inspired by Sabina Orszova. This finally woke up Spain. Inma Zanaguera was the catalyst as Spain went on a 6-0 run while 2 points by Mariona Ortiz (right) put Spain in front (25-23).
The Spanish side went into the break leading (29-25).
After the interval Spain put an 8-2 run together with Laura Gil scoring 6 points for her side to stretch the lead to (37-27).
A Yurena Díaz three-pointer helped Spain to stay in front (40-33) despite some offensive problems.
The last quarter was dominated by Spain for them to win despite a late charge by Slovakia.
For Spain Gil had a double-double with 15 points and 10 rebounds. There was only one more player in double digits with 12 points coming from Ortiz.
Martina Kissová and Zofia Hruscáková top scored for the hosts with 8 points each.

Sweden took back the lead to win
The first quarter was fast and furious with Sweden's center Amanda Zahui fighting against the duo from Slovenia Tjasa Gortnar and Nika Baric.
Sweden went into the second quarter in front (15-10).
They increased their lead to (23-11) before Baric initiated an 8-0 run with 5 points for her side to trail (19-23).
With Zahui on the bench for her 3rd foul, the Slovenians profited and with Rebeka Abramovic getting the shots fed to her, they were leading (54-46) going into the last quarter.
Yet with the Swedish team chasing the score and an aggressive defense, they managed to get the lead back (63-62) with alternating outside shooting and control in the paint.
The Slovenian side found no answer and allowed Sweden to take their first victory.
Sweden's Zahu had a double-double with 27 points and 10 rebounds while Salome Kabengano poured in 14 points.
For Slovenia Abramovic top scored with 19 points, followed by Baric with 18 and Gortnar with 16 points.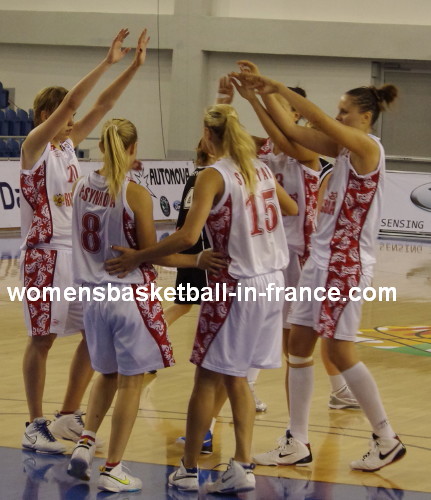 Russia too strong for Belgium
Despite Russia's inside size and aggressive defense, Belgium took the lead first. Lien Delmulle was the only Belgian to penetrate the Russian's paint to score and lay up. Most of their other points came from outside scoring.
Belgium went (18-12) into the second quarter.
With Youliana Stepanova controlling the paint for Russia, the Belgium lead was reduced to 1 point. However Emmanuelle Mayombo's agility gave her side enough energy to stay in front (29-27).
After the interval, the lead changed several times with Svetlana Efimova giving Russia the advantage for the third time (36-32).
Ann Shyvens and Hanne Mestdagh combined for 5 points to push Belgium ahead (37-35). But the Russian side went on an 8-2 run with 4 points coming from Anastasiya Markimova to put their side in front.
Belgium had no answer for the Russian defense to lose (58-66).
For Russia Stepanova top scored with 15 points. Two more players were in double digits: Efimova and Alexandra Stolyar with 13 and 10 points apiece.
Mestdagh and Shyvens scored 13 and 10 points for the Belgium team.
Remaining results for day 1 of the Fiba Europe U18 European Championship Women Division A
Serbia 63-54 Hungary
Lithuania 62-55 Poland
Italy 65-53 Latvia
Czech Republic 68-86 Turkey

---
Return from international youth basketball news to FIBA international youth competition index
Go to Women Playing Basketball In France Home Page
GO Back to the top of the page
---
FIBA Europe U18 European Championship Women picture credits:
womensbasketball-in-france.com
FIBA Europe
Date created: 28 July 2010
---