The Macedonia Basketball Federation are hosting their second FIBA Europe Championship of the summer.
In July the town of Kavadarci hosted the U20 Women Division B competition.
For the U16 tournament the games are played in Skopje.
With just 16 teams this year the format of the competition is identical to the format used in Division A.
However teams are not relegated from Division B.
The first phase of the competition ended on Saturday, 14 August 2010, with Germany, Hungary and the Slovak Republic remaining undefeated.
On the other hand Luxembourg, Macedonia, Switzerland and Ukraine are yet to win a game and have been eliminated from the qualification round. They will play for the classification places for 13th - 16th place.
Germany and Hungary were relegated from Division A last season and are hoping to make a quick return to the elite.
Germany cruised through the first phase conceding just 108 points and winning by an average of 36 points.
The Slovak Republic scored the most points in a game when they beat the hosts on the opening day (100-33) and have scored the most points so far with 256 points.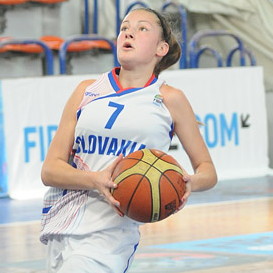 Angelika Slamová (left) from the Slovak Republic is the leading scorer with 17.7 points per game.
Sofie Preetzmann from Denmark and Shequila Joseph from England who are currently third and fourth in the scoring statistics are following in the footsteps of their older sisters, Ida Preetzmann and Kashmere Joseph.
For the second phase of competition, officially called the qualification round, the teams are split into two groups of six teams.
Teams from Group A and Group B are moved into Group E while teams from Group C and D make up Group F.
All the results against the teams eliminated from the preliminary round are removed so the group situation with points carried forward is as follows with the points in brackets:
Group E: Hungary(4), Latvia(3), Portugal(3), Slovenia(3) Denmark(3), Bulgaria (2)

Group F: Germany(4), Slovak Republic(4), Israel (3), England (3), Romania (2), Ireland (2)
All the results from the preliminary round
Switzerland 44-84 Hungary
Israel 68-59 Ukraine
Bulgaria 48-61 Portugal
Ireland 29-69 Germany
Macedonia 33-100 Slovak Republic
Luxembourg 43-75 Latvia
England 68-57 Romania

Portugal 54-34 Switzerland
Ukraine 47-52 Ireland
Latvia 66-53 Denmark
Slovak Republic 77-54 England
Slovenia 57-29 Luxembourg
Romania 69-59 Macedonia
Hungary 76-56 Bulgaria
Germany 71-46 Israel

Luxembourg 42-78 Denmark
Romania 56-79 Slovak Republic
Portugal 57-63 Hungary
Ukraine 41-76 Germany
Slovenia 43-39 Latvia
Macedonia 40-66 England
Switzerland 45-70 Bulgaria
Ireland 35-55 Israel

---
Return from international youth basketball news to FIBA international youth competition index
Go to Women Playing Basketball In France Home Page
GO Back to the top of the page
---
FIBA Europe U16 European Championship Women picture credits:
womensbasketball-in-france.com
FIBA Europe

Date created: 15 August 2010
---