France started the final day of the qualifying round of the FIBA Europe U16 European Championship Women Division A as leaders of Group E and undefeated. However they ended the day with a loss and ended up finishing third.
It is not often that France are out-muscled by their opponents and Russia did just that in beating France (70-54).
Alexandra Marchenkova (left) and Natalia Grishkevich contributed almost half the team's points with 15 and 13 points each.
Olivia Epoupa top scored for France with 14 points. She also collected 10 rebounds.
Russia's success was based on a solid inside game and patience. The only time that France led in this game was when they scored the first points of the game.
France fell back during the first quarter (11-17) despite the efforts of Olivia Epoupa and Valeriane Ayayi.
While France play Spain in the quarter-final match Russia face the Netherlands.
---
Croatia defeated Finland (70-54) to secure second place in the group.
Ivana Tikvic from Croatia finished with a double-double of 17 points and 10 rebounds.
---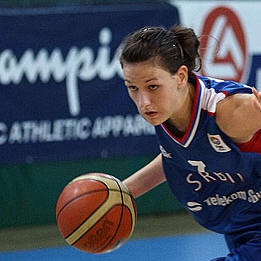 Sweden´s dream of going to the quarter-final disappeared during the third quarter when Serbia outscored them 21-4.
Serbia went on to win (73-39) with 23 points coming from Natasa Kovacevic.
With Serbia finish in fourth position they play Turkey next while Croatia face Belgium.
---
Croatia 70-54 Finland
France 54-70 Russia
Sweden 39-73 Serbia

Look back on the news from Qualification round day two
---
---
Turkey
won their fifth consecutive match by beating Belgium (77-63).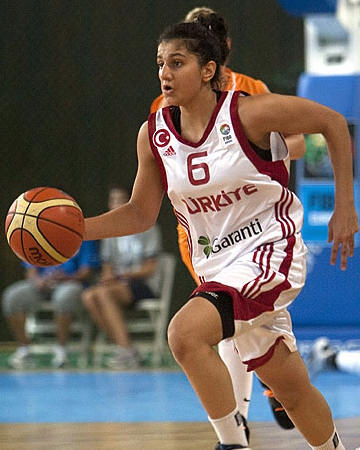 Belgium, a bit tired from their overtime exploits the previous day, were unable to pick themselves up for this game.
Merve Aydin (right) scored the most points of the game with 20. She he was joined in double digits by Cansu Köksal who scored 17 points and who also collected 10 rebounds.
---
Marlés Balart collected 28 rebounds and scored 11 points as Spain held off hosts Greece (45-43).
With Greece already eliminated there was not much at stake in this game. Spain moved up to finish 2nd in the group.
---
The Netherlands were slow out of the starting blocks which allowed the Czech Republic to open a 10-point lead by the end of the first quarter (20-10).
The Czech Republic held on for their first victory in the qualification round (63-52).
Tereza Vyoralová led the scoring for the Czech Republic with 12 points while Kourtney Treffers fired in 22 points for the Netherlands.
---
Belgium 63-77 Turkey
Greece 43-45 Spain
Netherlands 52-63 Czech Republic

---
Italy made it three wins out of three in the relegation group after beating Lithuania (76-46). Poland had it easy beating Belarus (66-27).
Poland remain in second place with two wins. Belarus have won one match so far and Lithuania are yet to win a match.
---
Return from international youth basketball news to FIBA international youth competition index
Go to Women Playing Basketball In France Home Page
GO Back to the top of the page
---
U16 European Championship Women picture credits:

FIBA Europe

Date created: 18 August 2010
---