France and Russia have already qualified for the FIBA Europe U16 European Championship Women Division A quarter-final.
Look back on the news from Day three
France and Russia set the pace in Group E
France played without Olivia Epoupa against Finland and still ended up winning by 34 points.
Clémentine Morateur led the French attack with 15 points, Mousdandy Djaldi-Tabdi and Marième Badiane scored 13 and 11 points each while Céline Pfister dished out 6 assists.
France led for all but four minutes in the game and ran out easy winners (78-44).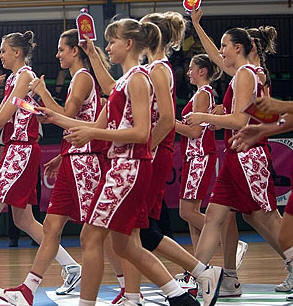 Russia found the going tough against Serbia. The Russians had a poor shooting day but they ended up taking 21 more shots than their opponents.
The game went back and forth for 22 minutes with neither side able to pull away (54-54).
Olga Novikova put Russia in the lead for good with what turned out to be their last score from open play.
Polina Sych who top scored for Russia with 19 points went 5-of-6 from the free-throw line before Julia Gladkova and Yulia Sorokina sealed the victory with more free throws (65-60).
As a result of losing to Finland, Serbia cannot finish above France and Russia any more. Hence France and Russia have booked their tickets for the quarter-final.
In the last game of this group Croatia beat Sweden (69-49).
---
---
Turkey remain on top in Group F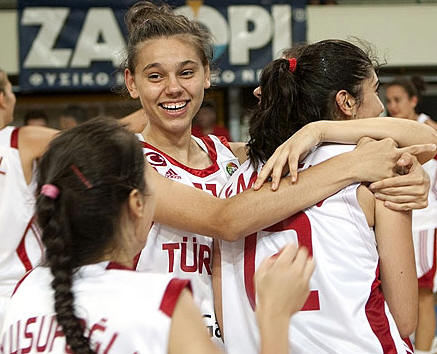 Turkey have not been spectacular in this tournament so far but continue to win games.
Although the Czech Republic won the battle of the boards, shot the ball more and turned the ball over less than Turkey they ended up losing.
Turkey's patient approach and better shot selection enabled them to win (67-55) to go top of the group. Doga Comba was the best player for Turkey with 14 points.
The Netherlands are just one win away from qualifying for a FIBA Europe Division A quarter-final. Once again Kourtney Treffers was the match winner with 20 points and 11 rebounds in the victory against Greece (60-50).
Greece actually led by a single point (41-40) with just seven minutes remaining.
Yordi Kathmann fired in a big three for the Netherlands which had the knock-out effect on Greece.
The Dutch team held on to the lead for good and pulled away during the last three minutes.
Spain ended the perfect record of Belgium (61-48) who went to sleep during the third quarter and were hit 20-0. Belgium only scored a couple of points on the buzzer.
Belgium never recovered and Spain who had a difficult preliminary round are back in contention for a place in the quarter-final.
All the results from day 4
Italy and Belarus open the relegation round with victories which leaves Lithuania as the only team not to win a game so far.
Finland 44-78 France
Serbia 60-65 Russia
Croatia 68-49 Sweden

Czech Republic 55-67 Turkey
Greece 50-60 Netherlands
Spain 61-48 Belgium

Italy 79-70 Poland
Lithuania 37-51 Belarus

---
Return from international youth basketball news to FIBA international youth competition index
Go to Women Playing Basketball In France Home Page
GO Back to the top of the page
---
FIBA Europe U16 European Championship Women picture credits:

FIBA Europe

Date created: 16 August 2010
---