EuroLeague Women relief for Ros Casares and Gambrinus Brno
---
---
The deciding legs in both EuroLeague Women eighth-final matches were one-sided affairs with the home sides prevailing.
USVO, no match for Ros Casares
USVO got off to a cracking start with Krissy Bade and Emilie Gomis opening the scoring (4-0) with less than a minute on the game clock. This was their only highlight as Ros Casares picked up their game.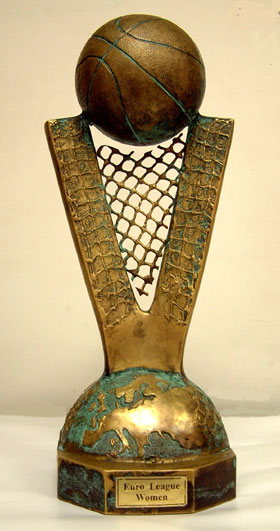 Elena Baranova and Katie Douglas hit back-to-back three pointers to start a 15-0 for Ros Cosares. USVO were unable to really take advantage of their opponents' offensive pause with only Sabrina Reghaïssia halting the onslaught with 2 points.
Ros Casares scored the last 6 points of the period to lead (21-6).
USVO were on the back foot for the rest of the match and despite a better second quarter could not reduce their deficit by the interval (23-38).
With no comeback by USVO, Ros Casares paced themselves to victory (70-46).

For Ros Casares Douglas led all scoring with 17 points and was joined in double digits by Elena Tornikidou with 12 points. Delisha Milton scored 9 points and took 13 rebounds.
For USVO Gomis and Bade had 10 points apiece as USVO failed for the second season to make the quarter-finals of this competition.
Gambrinus Brno demolished MiZo Pécs
After two close games the final stanza in this contest was a let-down. Mizo Pecs were a shadow of the team from the two previous ties.
Gambrinus were leading (41-22) at the interval and put the game to rest with a thumping 31-3 third period (72-25). Gambrinus relaxed in the final quarter (84-45) allowing their guests to reduce their deficit slightly.
The Hungarian side were handicapped by the injury of Dalma Ivayni.
Results:
Gambrinus Brno 84-45 MiZo Pécs (Gambrinus win series 2:1)
Ros Casares 70-46 USVO (Ros Casares win series 2:1)
FIBA Europe EuroLeague Women Quarter-Finals
Format: Best of 3 games with home advantage in case of 3rd match going to team hosting first game.
Games to be played: 26th February, 29th February and 5th March.

CSKA Moscow vs. UMMC Ekaterinburg
Bourges Basket vs. Fenerbahce SK
Spartak Moscow Region vs. Dynamo Moscow
Ros Casares Valencia vs. Gambrinus SIKA Brno
Return from EuroLeague Women to LFB Basketball News
Return from EuroLeague Women to "What's New" page
Date: 13 February 2008
---