Bourges are ready for the next round of EuroLeague Women
---
---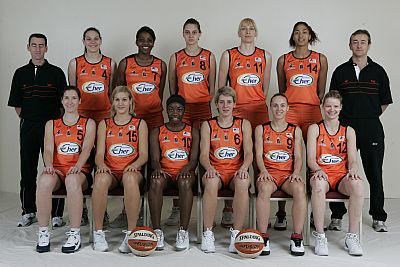 Bourges Basket qualify for EuroLeague Women quarter-final
Treys from Céline Dumerc and Cathy Melain enabled Bourges to take control of their hosts MKB Euro Leasing (10-4) midway through the first period of the game.
MKB recovered their touch during the second part of the quarter. With their dominance on the offensive boards (6-1) they eventually drew level (17-17) through Olexandra Gorbunova. A split pair from the free-throw line by Sonja Petrovic gave Bourges a slight advantage going into the second period (19-18).
Both teams had an offensive poor second quarter with only two scores from the field: a three-pointer by Edit Ratkainé for MKB and a jump shot from Belinda Snell for Bourges. All the other points came from the free-throw line. MKB went 6-for-6 while Bourges were rather generous as they managed 7-of-12 but still went into the interval leading (27-24).

The third period turned into the Cathy Melain show. She scored her side's first 7 points as they stretched their advantage (34-28). With their opponents confused Dumerc took over the scoring duties briefly by completing a fast break with a lay-up. Melain then came up with one of her trade mark's pass and Dumerc said thank you with a three-pointer. Melain was to score again (41-30) before Norbert Székely, the MKB head coach, called for a time-out.
Bourges' advantage reached 15 points after their 9-0 run before Zsuzsanna Horváth ended the avalanche. MKB managed to reduce their deficit and Bourges' lead was cut to 10 points going into the final period (47-37).
The last quarter was not very exciting. In the beginning Bourges hit two quick baskets to regain their 15-point lead. Thereafter the game became rather stale with very little action. Bourges withstood a mini-revival as the hosts reduced the deficit (44-54) before finishing with a flourish of points to win by a flattering margin (68-48).
Melain and Snell shared the scoring honours with 14 points apiece and were joined in double digits by Dumerc. For MKB the only player to reach double digits was Andrea Balas-Pirine Karolyi. Bourges' free-throwing was the only shortcoming in their game: 17-of-27. They have now qualified for the quarter-final of the EuroLeague Women after their 2-0 series victory.
USVO are still in the EuroLeague Women competition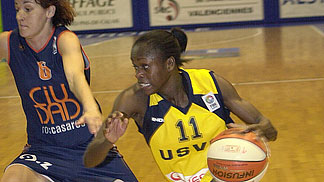 In the last couple of seasons USVO have managed to pull out great performances when their backs were to the wall. Their victory in this match against Ros Casares (71-63) definitely falls into this category.
USVO have been taken to the wire in their last few games domestically and they were more than prepared for money-time with the game nicely poised in their favour (62-61).
Emilie Gomis (in picture above) is also known as "Miss Go" as she likes to run at players. She was in the mist of the action as she scored USVO's next 7 points as her side made the game safe (69-61) with only 22 seconds left.
Nicole Ohlde led the scoring for USVO with 20 points. She also picked up 10 rebounds. Gomis was the only other player in double digits with 16 points. Katie Douglas hit a game high of 21 points for the guests and LFB favourite Laia Palau (in picture above) scored 12 points.
Villeneuve went down fighting
When it comes to playing the teams from Russia, Villeneuve have suffered some big defeats.
UMMC Ekaterinburg were made to work hard for their (71-64) victory as Villeneuve fought tooth and nail. Villeneuve won the battle of the boards (43-36) and had three players in double digits. Kathy Wambe top scored with 14 points. Géraldine Robert compiled a double-double with 12 points and 13 rebounds. Jucirama Dantas completed the trio with 10 points.
Laurent Buffard was pleased to get this game out of the way. Agnieszka Bibrzycka led the scoring with 14 points. Two favourites from the French League Sandrine Gruda and Kristi Harrower finished with 11 and 10 points respectively. Caroline Aubert who left France just two weeks ago dished out 2 assists and scored 5 points in 12 minutes.
---
---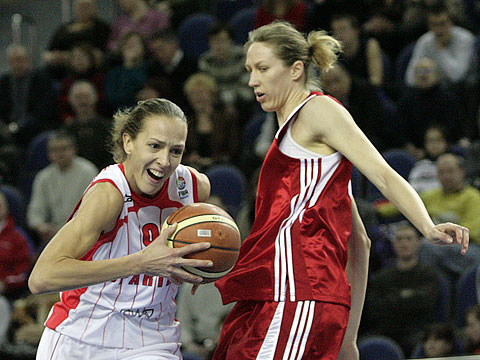 The Russian club sides get ready for EuroLeague mini championship
Spartak had a routine victory against Teo Vilnius. Diana Taurasi hit a game high 24 points which included 4-of-5 from beyond the arc. Tatiana Shchegoleva contributed 17 points in a game they made safe by the interval (47-29).
Lauren Jackson was the final player from Spartak in double digits with 14 points as they won (83-71). Kristin Haynie finished with 20 points and 9 rebounds for TEO as they reduced their deficit in the final period.
Dynamo required a fifth period to overcome Lotus PKO BP (79-74).

Anete Jekabsone-Zogota had a quiet game for three quarters with just 5 points. In the crucial fourth period she scored 13 of her team's 21 and 9 more points in overtime to finish the game with a game high 27 points.
The third team based in Moscow, CSKA, had a difficult evening and had to wait until the fourth quarter before breaking the resistance of their hosts from Halcon Avenida (78-70). Becky Hammon, (Rebecca) started the final fightback with a trey for CSKA in the final period, top scoring with 25 points which included 6-of-8 from the land of many.
CSKA hit six three-pointers with Nicole Powell hitting the last three as CSKA negated the efforts of Anna Montañana and Isa Sanchez from Salamanca in a pulsating finish.
UMMC Ekaterinburg completed the Russian grand slam in the EuroLeague Women with their series win against Villeneuve d'Ascq.
---
MiZo Péc forced a decider third leg while Fenerbahce advance
The series between Gambrinus Sika Brno and Mizo Pécs IS turning into a EuroLeague Women classic. The first game between the two teams was a close affair, which was only decided in the closing minute. The second chapter in this encounter also went to the wire.
MiZo Péc's 5000 supporters had a nerve racking last minute as they had witnessed a second-quarter 10-point lead evaporate to a single point (56-55). Zsófia Fegyverneky finally put the home fans at ease as she hit a pair of free-throws. Brno then required a three-pointer to take the game into overtime.
Some hard defending by Péc pushed Brno to the limit and even though Tamika Whitmore did finally get a shot off, it would have only been a two-point shot if it went in.
Fenerbahce's adventure continues after they beat Wisla Can-Pack from Krakow, Poland, (67-59) to sweep the series 2-0. Cappie Pondexter led the scoring with 22 points in the second game.
---
EuroLeague Women eighth-final second leg results
TEO Vilnius 71-83 Spartak Moscow Region (Spartak win 2:0)

Lotos PKO BP 74-79 Dynamo Moscow (game went to overtime - Dynamo win 2:0)

Wisla Can-Pack 59-67 Fenerbahce (Fenerbahce win 2:0)

MiZo Pecs 2010 58-55 Gambrinus Brno (series tied)

MKB Euroleasing 48-68 Bourges Basket (Bourges Basket 2:0)

Halcon Avenida 70-78 CSKA Moscow (CSKA win 2:0)

USVO 71-63 Ros Casares (series tied)

ESB Lille Metropole (Villeneuve) 64-71 UMMC Ekaterinburg (UMMC win 2:0)

Return from EuroLeague Women to "What's New" page
Return from EuroLeague Women to LFB Basketball News
EuroLeague Women pictures courtesy of FIBA Europe and Ligue Féminin de Basketball

Date: 8 February 2008
---