EuroLeague Women eighth-final first leg round-up
---
---
Bourges go one up in the EuroLeague Women series
Bourges Basket took a while to get into their rhythm allowing their guests, MKB Euroleasing, to take early command of the game. MKB led (15-12) at the end of the first period.
Olexandra Gorbunova from MKB continued to cause Bourges problems at the start of the second quarter with her team increasing their advantage (19-12).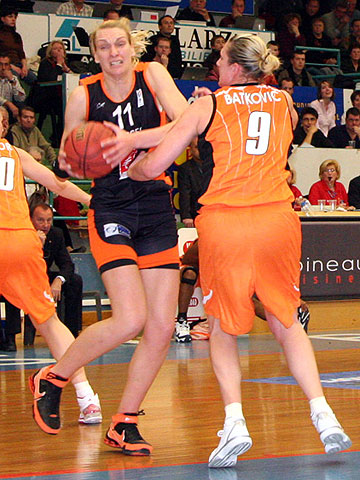 Yet Bourges' strength in EuroLeague is to cut off their opponents' offensive channels. So Pierre Vincent reminded his players of their defensive responsibilities after Sonja Kireta (left) fouled Iva Sliskovic.
Bourges then went on a 14-0 run and went into the interval leading (33-22). They added 8 more points in the third quarter keeping their guests scoreless for almost 10 minutes (40-22).
Vincent continued to turn his bench with only Dumerc playing for more than 25 minutes as his side went on to win (69-47). Hence Bourges go one up in their EuroLeague Women series.
Endem Miyem led the scoring for Bourges with 14 points. Sonja Petrovic and Kireta scored 11 and 10 points apiece. Gorbunova top-scored with 17 points for the guests.
USVO no match for Ros Casares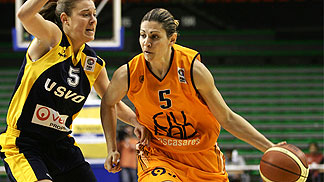 Once Ros Casares took an early advantage (9-6) midway through the first period, USVO were never to recover. The Spanish side stretched their lead by the interval (38-25) and went on to win (70-44).
For USVO Réka Cserny scored 13 points and Nicole Ohlde pulled down 10 boards. But USVO were no match for the balanced attack of their hosts.
Elana Baranova with 10 points and 12 rebounds was the player of the match for Ros Casaras. She was joined by Delisha Milton and Evanthia Maltsi in double digits with 12 and 10 points each.
On Friday USVO require to win if they hope to continue their adventure in this season's EuroLeague Women.
Villeneuve d'Ascq outclassed by UMMC Ekaterinburg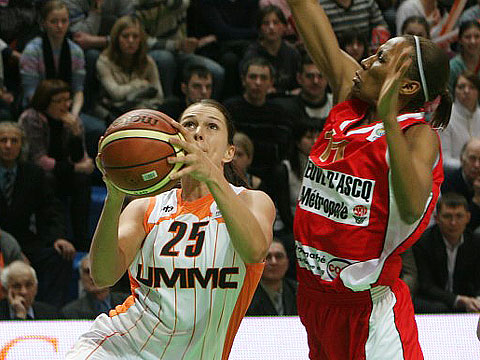 Villeneuve were very aggressive at the start of the game and gave their hosts, UMMC Ekaterinburg, some problems while only trailing by 4 points by the end of the first period (20-16).
Ekaterinburg tightened up in defence and in the second quarter stretched their advantage by the interval (35-23). In the second half the match was only one-sided as Ekaterinburg battered Villeneuve to win (96-50).
Agnieszka Bibrzycka scored 28 points including 7-of-8 from the land of many for the hosts as they go one up in this EuroLeague Women series.
---
---
Dynamo Moscow took victory deep in money time
This may be only the first game in this EuroLeague Women series and already we await the second match with impatience. The guests from Poland, Lotus PKO BP, were holding the lead for most of the game and made Dynamo Moscow tremble.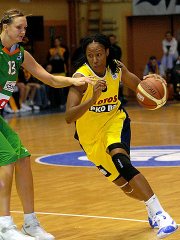 Dynamo weathered the storm and made up their deficit to go in front briefly on two occasions only to be pegged back by their guests. It was only with the game tied (71-71) and money-time approaching that Dyanmo Moscow found the resource to end on a 15-4 run to win the game (86-75).
Anete Jekabsone-Zogota led the scoring for Dynamo with 23 points and was joined in double digits by
Seimone Augustus
and Ieva Kublina with 17 and 11 points respectively.
Chamique Holdsclaw (above) scored a game high 28 points and pulled down 10 boards but still ended up on the losing side.
Laura Jackson led Spartak Moscow to victory against TEO Vilnius
TEO tried in vain to destabilise their hosts, Spartak Moscow, in the game of their EuroLeague Women series.

Laura Jackson was on fire all through the game for Spartak and her side appeared to have had the game won by the interval after a 28-12 second quarter run to lead (47-23) at the interval.

TEO did not allow their heads to drop as they reduced their deficit during the third quarter to 15 points (51-66). This was as close as they got as Spartak picked up their game and went on to win (93-67) to take the first game in the "best of three series".
Jackson played for 28 minutes and scored 34 points, was consistent within the arc as she hit 8-of-10 and was also dangerous from beyond the perimeter with 5-of-7. Tatiana Shchegoleva chipped in 21 points while Tina Thompson compiled a double-double with 11 points and 10 rebounds.
TEO's Kristin Haynie managed 20 points although her side only managed to hit 38% from the field.
In the remaining EuroLeague Women first leg games:
CSKA Moscow downed Halcon Avenida (83-64). Ann Wauters led the scoring for the winners with 21 points while Isa Sanchez finished with 14 points for the team from Salamanca.
The hosts Gambrinus Brno were taken all the way by MiZo Pécs 2010 in another pulsating game and only won in the last seconds (71-67).
Fenerbahce beat Wisla Can-Pack (78-61) with Cappie Pondexter and Tammy Sutton-Brown, scoring 22 and 20 points respectively. Marta Fernandez and Anna De Forge finished with 13 apiece for Wisla.
All the results from 1/8 final first leg FIBA Europe EuroLeague Women:

CSKA Moscow 83 - 64 Halcon Avenida
UMMC Ekaterinburg 96 - 50 ESB Lille Metropole (Villeneuve d'Ascq)
Fenerbahce 78 - 61 Wisla Can-Pack
Bourges Basket 69 - 47 MKB Euroleasing
Spartak Moscow Region 93 - 67 TEO Vilnius
Ros Casares 70 - 44 USVO
Gambrinus Brno 71 - 67 MiZo Pécs 2010
Dynamo 86 - 75 Lotos PKO BP
Return from EuroLeague Women to "What's New" page
Return from EuroLeague Women to LFB Basketball News
EuroLeague Women pictures courtesy of FIBA Europe

Date: 5 February 2008
---