Diana Taurasi enjoying EuroLeague Women basketball
---
---
The EuroLeague Women favourites from Russia, Spartak Moscow Region and UMMC Ekaterinburg got their European campaigns off to perfects starts with home victories.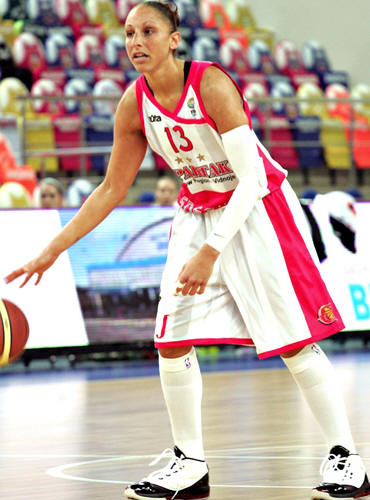 Diana Taurasi (left) fired in 27 points for her first game of the season for Spartak Moscow as they beat beat Group A rivals Frisco Sika Brno (91-75). Edwinge-Lawson Wade who is covering for Sue Bird contributed 6 points.
UMMC Ekaterinburg took a little time to get going and then paced themselves to victory (83-56) with 17 points coming from Deanna Nolan.
But the most stunning result of the evening came from Spanish Champions as they beat TTT Riga from Latvia (118-38).
All three French clubs were playing at home with Tarbes and Villeneuve D'Ascq coming away with victories. For Bourges Basket it was another difficult evening as they lost at home to ZVVZ USK Prague (53-60).
Tarbes
led by 14 points going into the final period but then decided to keep their fans in suspense as they allowed their guests
Szeviép Szeged
to come right back in the game.
Anne Breitreiner split a pair of free-throws in the dying seconds to give the victory (81-80).
Jolene Anderson with a double-double of 18 points and 12 rebounds helped Villeneuve hold off Gospic Croatia (73-59).
José Hernandez returned to his former club Halcon Avenida as the new coach of Wisla Can-Pack and walked away with the victory (65-60). The Polish side was a late entry into the competition as a replacement for CSKA Moscow.
Select the links below to read the EuroLeague Women basketball news from all the games from the first round of games.
1. Group A
2. Group B
3. Group C
4. Group D
5. Results and boxscores

---
UMMC Ekaterinburg: back to business with a home victory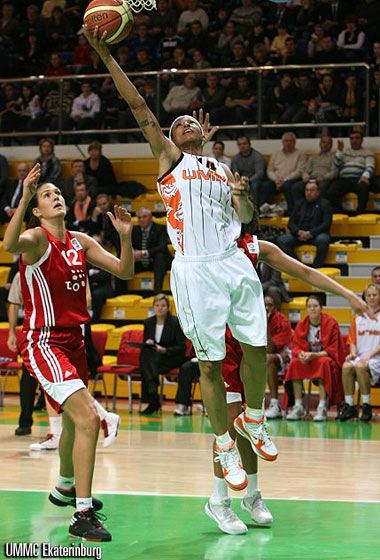 UMMC Ekaterinburg were without Céline Dumerc and Cappie Pondexter but came away with a victory (83-56) against TEO Vilnius with Deanna Nolan (right) and Svetlana Abrosimova scoring 17 and 15 points each.
In addition Sandrine Gruda Asjha Jones and Agnieszka Bibrzycka all scored 13 points.
UMMC did not have it all their way and the game was close for the first 13 minutes (27-27).
UMMC then went on a 10-0 run and opened the first significant lead of the game. This enabled them to go into the break with an 11-point lead (43-32).
TEO came up fighting in the second half. With the trio of Chioma Nnamaka, Renee Montgomery and Quanitra Hollingsworth battling away kept on the toes of their hosts.
However UMMC weathered the storm and used their experience to cruise past their opponents with a final quarter flourish to win (85-56).
Quanitra Hollingsworth who has just completed her rookie season in the WNBA was the leading player for TEO with 17 points and 15 rebounds.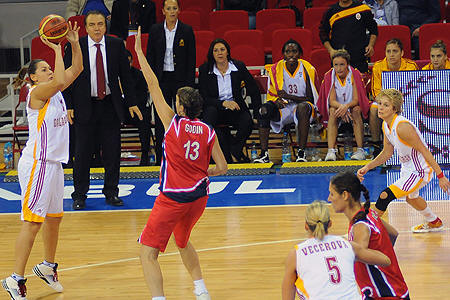 EuroLeague Women: Galatasaray-Cras Basket
Sophia Young and Jia Perkin scored 15 points each as Galatasaray beat Cras Basket (76-64) in a repeat of the 2009 EuroCup Women final.
After a tight first quarter which ended (19-15) in favour of Galatasaray, Galatasaray dominated the second quarter (27-10) to lead (46-25) at the interval.
Cras Basket made a fight of it during the second half of the match. Despite the efforts of Rebekkah Brunson with 17 points for the Italians, it was not enough to stop Galatasaray.
Elodie Godin scored 8 points and Kathy Wambe finished with 11 points and 5 steals for Cras Basket.
In the last game from EuroLeague Women in Group A, Ros Casaras showed little mercy for their guests TTT RIGA and won (118-38).
Return to Group index
---
EuroLeague Women basketball excitement already in Group B
Villeneuve d'Ascq passed their first test of the FIBA Europe EuroLeague Women 2009-2010 season with a (73-59) victory against Gospic Croatia.
Abdou N'Diaye, the coach from Villeneuve d'Ascq, knew about Carla Thomas because she played in the LFB with Arras during the 2007-2008 season. But he admitted that he was surprised by her three-point shooting.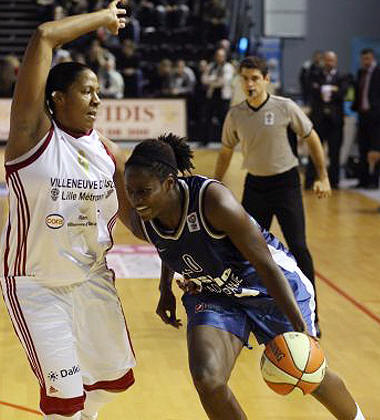 Carla Thomas (left in blue) had enjoyed her time with Arras because of the physical nature of the game.
She had then given the Villeneuve supporters a reminder of what she used to do in the LFB as she led her side with 26 points and 8 rebounds while she was 3-from-8 from beyond the arc.
Villeneuve did not start the match well and trailed (4-10) after only three minutes.
However they went into the lead for the first time with a trey by Elodie Bertal (14-12) with a little under five minutes played.
The advantage did not last long with Thomas equalizing on the very next play. Thomas fired in 14 points during the first quarter as Gospic won the first quarter (23-20).
Thomas opened the second quarter with a trey and Gospic moved 8 points clear seconds later with 2 points from Andja Jelavic.
Jolene Anderson started the Villeneuve revival with a shot from her spot behind the arc. The sides were soon level with 5 points coming from Bertal (30-30) with 15 minutes played.
The lead changed hands several times as the two teams traded basket for basket until Anderson broke the sequence with a pair of free-throws for the home side to lead (38-34).
Ivona Bogoje who played at Challes-les-Eaux during the first part of last season scored for the guests.
Yet 2 points for Emilie Gomis took Villeneuve into the interval leading (40-36).
After the break Lady Comfort and Ana Cata Chitiga were tasked with keeping Thomas in check while Anderson and Bertal took care of the defensive boards.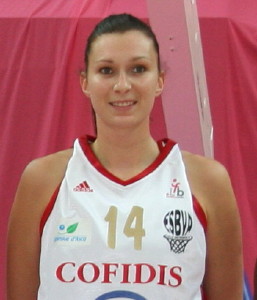 Villeneuve led the attack as they dominated the third period to go ahead (57-42) into the final period.
The last quarter was a lively affair with the hosts controlling the pace.
This resulted in all 10 players from Villeneuve getting onto the court as they won (73-59).
Anderson and Bertal (right) led the scoring with 18 and 15 points each. they also dominated the rebounding with 12 and 11 points respectively.
Comfort scored 10 points and took 9 rebounds and recorded 4 blocks. Cata Chitiga also scored 10 points.
In the other EuroLeague Women tie from Group B Wisla Can-Pack Krakow won on the road against last season's final four finalist Halcon Avenida (65-60).
Wisla took control of the game during the second period to lead (32-27) at the pause and stayed in front for the rest of the game. Liron Cohen with 21 points was the match winner.
In the last game in Group B, it took one shot from beyond the arc with 9 seconds left to play by Laura Macchi for Beretta-Famila Schio to snatch the victory against their hosts MiZo Pécs (58-55).
Return to Group index
---
---
What is wrong with Bourges Basket ?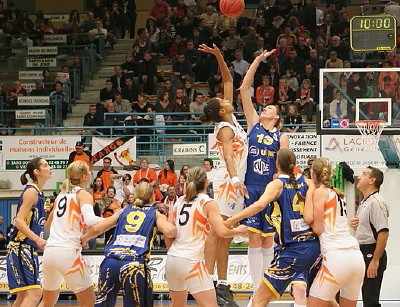 EuroLeague Women basketball in Bourges
Bourges Basket were eliminated by MKB EuroLeasing in their last EuroLeague Women game in March on their home court as they were swept 2-0 in the quarter-final.
So the EuroLeague basketball negative series continues with a home defeat (53-60) to ZVVK USK Prague.
It was not a great game by either side. ZVVK made too many errors while Bourges were hesitant and out of rhythm despite leading (17-12) at the end of the first period.
ZVVK opened the second period with a trey from Katerina Elhotova (left).
This was quickly followed by back to back three-pointers by Evanthia Maltsi to put the guests into the lead (21-17).
Bourges fought back but were unable to go in front despite drawing level twice because ZVVK continued to score from behind the arc. The guests had a total of 7 three-pointers scored when they led (40-36).
The rest of the game was tactical and messy with neither side getting a run going. However three-pointers by Lindsay Whalen and Cathrine Kraayeveld, midway through the third period, gave ZVVK a 10-point advantage (48-38).
A trey from Nwal Endéné Miyem and a free-throw from Jennifer Digbeu at the end of the quarter reduced the hosts' deficit to 5 points (45-50).
The final quarter was dull and disappointing with ZVVK holding on to win (60-53).
Whalen led the scoring with 12 points. Kraayeveld (12 rebounds) scored 11 points while Eihotova and Maltsi finished on 10 points each. Sandra Le Dréan scored 4 points and had 9 rebounds.
For Bourges Emméline Ndongue led the scoring with 10 points.
MKB Euroleasing from Sopron in Hungary waited until the final quarter before blowing away their guests Good Angels Kosice (74-63).
MKB trailed (47-48) going into the final quarter but used a 10-2 run to regain control of the match (57-50) with 33 minutes played.
MKB then paced themselves for the remaining seven minutes to win (74-63). They had four players in double digits. Yet the player of the match was Candice Dupree with 24 points and 10 rebounds for Good Angels Kosice.
Rivas Ecópolis opened their EuroLeague Women season with with a comfortable home victory (85-60) against KSSSE AZS-PWSZ Gorzow from Poland.
Rivas were never in any difficulty in this match and took control of the match with a 9-0 run to lead (15-7) with 5 minutes played which they increased to 22 points (49-27) at the interval.
Clara Moreno dished out 11 assists during the first 20 minutes.
Gorzon who are unbeaten in the Polish League reduced the deficit slighting during the third period but were powerless during the final quarter.
Jelena Dubljevic finished the game as top scorer with 18 points for the hosts.
Return to Group index
---
Diana Taurasi: simply the best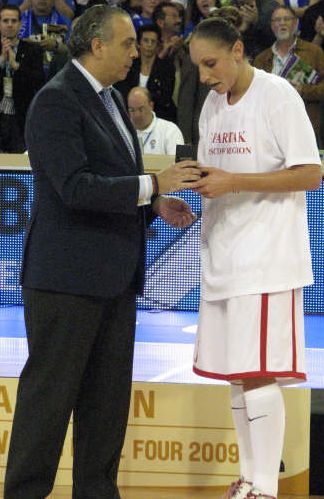 EuroLeague Women MVP 2009: Diana Taurasi
Diana Taurasi (left) has not played a game of basketball since the WNBA finals. Yet she has been in all the basketball news this week because her coach, László Rátgéber believes that she is a better player than Michael Jordon.
Anyway she made her return to competitive basketball with a bang, 27 points, 5 assists, a couple of steals and 1 block to lead Spartak Moscow Region to victory against Frisco Sika Brno (95-71).
Spartak Moscow did not have it all their way and trailed (22-23) after the first quarter. They turned things around in the second quarter and went into the locker room leading (49-38) thanks to a three-pointer from Taurasi.
Spartak Moscow controlled the pace of the game after the break to secure the victory.
Taurasi stole the show but other players from her side also made big contributions. Sylvia Fowles scored 17 points and had 10 rebounds while Anete Jekabsone-Zogota went 4-from-5 from beyond the arc to finish with 14 points. Janel McCarville contributed 12 points and captured 9 rebounds.
Linda Fröhlich fired in 20 points but ended up on the losing side.
Fenerbahce dominated their opponents from Poland, Lotus Gdynia for 27 minutes and they led by over 20 points (61-37).
Then Lotus Gdynia went to work on reducing the deficit. With 30 seconds left to play, Fenerbahce's advantage was just 4 points (71-67).
Furthermore the game was finished on the free-throw line with Nicole Powell and Penny Taylor scoring as Fenerbahce held on to win (75-67).
Tarbes got the EuroLeague Women win they wanted. But once again their fans were left on the edge of their seats as the opponents Szeviép Szeged pushed all the way.
Tarbes went into the final quarter leading (70-54). However 6 unanswered points from Vaida Sipaviciute, who played in the LFB last season with Arras, kick started the guests' fight back. Zsuzsanna Horváth then hit a trey as other players took over the offensive duties.
Emöke Föresz tied the game and then put her side in front from the free-throw line (78-77) with 2 ½ minutes left to play.
Isabelle Yacoubou-Dehoui levelled the score as she split a pair of free-throws.
The home side then had some luck when Föresz' three-point attempt fell short. Florence Lepron restored the lead for the hosts.
Still the teams were level once more with Sipaviciute scoring her 22nd point of the evening.
In this match Tarbes were just scoring 50% from the free-throw line. So it came as no surprise that Szeviép Szeged took the chance on fouling a player from Tarbes to stop the clock.
Anne Breitreiner split the pair. Afterwards Szeged had 20 seconds to win the game but messed up the last play, which allowed Tarbes to win the match (81-80).
Pauline Jannault led the scoring for Tarbes with 19 points. She went 6-of-8 from beyond the arc.
Tarbes scored a total of 13 three-pointers in the match but were 10-from-20 from the free-throw line.
Return to Group index
---
EuroLeague Women Results and box scores
UMMC Ekaterinburg 85-56 TEO Vilnius
Galatasaray 76-64 Cras Basket Taranto
Villeneuve d'Ascq 73-59 Gospic Croatia
Halcon Perfumerías Avenida 60-65 Wisla Can-Pack
MiZo Pécs 2010 55-59 Beretta-Famila
MKB Euroleasing Sopron 74-63 Good Angels Kosice
Bourges Basket 53-60 USK Praha
Rivas Ecópolis 85-60 KSSSE AZS-PWSZ Gorzow
Spartak Moscow Region 95-71 Frisco Sika Brno
---
Return to the EuroLeague Women index
Return from FIBA Europe EuroLeague Women round-up to women playing basketball blog
Return to women playing basketball in France home page
EuroLeague Women picture credits:
womensbasketball-in-france.com
Thibaut Bissuel
FIBA Europe
UMMC Ekaterinburg
Olivier Martin @ Basquetebol.org
Date created: 28 October 2009
Last Update: 29 October 2009
---
---