EuroCup Women first leg highlights
---
---
The EuroCup women 2008 competition continues without the participation of clubs from the Ligue Féminine de BasketBall.
Elitzur take a 28-point lead into second leg
The first matches in the two-leg quarter-final series were played last night, 21 Februrary. Home advantage did not count for much as only one of the home sides won.
In the only home victory Elitzur Ramla pushed aside Levoni Taranto (78-51).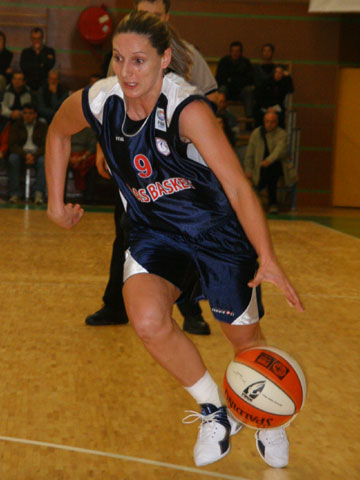 After a close fought first period the home side stretched a (19-18) lead to (41-28) by the interval. Taranto were not to recover and were down by 30 points at one stage in the game (39-69).
Jaclyn Johnson from Elitzur Ramla was the player of the match scoring 21 points and taking 13 rebounds. Her side were ice cold from the free-throw line with 17-from-19.
Audrey Sauret-Gillespie, (left) who was the French Captain at EuroBasket Women 2007, scored 7 points for Taranto.
Visitors upset hosts in first leg ties
In the all-Russian encounter BC Moscow held off Chevakata (70-68).
BC Moscow trailed by as much as 19 points in the third period and went into the final quarter 12 points down (50-62). Monique Currie's contribution of 11 points in the final period included the game-winning lay-up.
Beretta Famila took a 5-point lead into the second leg as they overcame Gospic (68-63). Beathny Donaphin with 12 points and 11 rebounds was the player of the match while Italian internationals Raffaella Masciadri and Laura Macchi added 14 points apiece.
Galatasaray completed the away-team dominance with a (74-69) victory against Israeli club side Electra Ramat Hasharon.
Galatasaray dominated the final period (25-15) to upset their hosts. Petra Ujhelyi scored 24 points and 12 rebounds for the winners.
Return from EuroCup Women to Basketball Events
Date: 22 February 2008
---