No upsets in the sixteenth-final of the EuroCup Women
In the end the sixteenth-final of the EuroCup Women did not come up with any surprises with the higher seeds winning 15 of the games.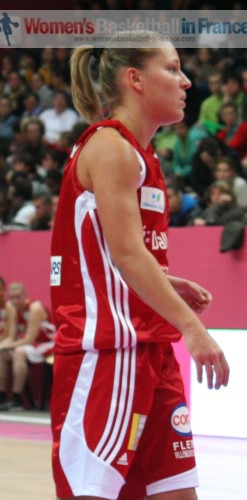 Villeneuve d'Ascq were the only top seed to be in trouble after the first leg trailing by 12 points to Jolly JBS Euroline.
They turned things around with a solid second-half performance to beat their guests (78-59) with 20 points coming from Olayinka Sanni.
Ingrid Tanqueray and Julie Page scored 16 and 12 points each. Carine Paul, Marjorie Carpréaux and Carla Thomas added 10 points each.
Carpréaux also dished out 11 assists.
Villeneuve will meet Arras in the next round.
In the 14 other games played, the teams leading from the first game also won the second game. Lemminkainen did not show up for their second game with Gran Canaria and forfeit the series.
The pairing for the Eighth-final is as follows:
Arras vs. Villeneuve d'Ascq
Energa Torun vs. Gran Canaria
Mann Filter vs. Dynamo Kursk
Seat Györ vs. Nantes-Rezé
Reyer Venezia vs. Chevakata
Partizan Galenika vs. Sony Athinaikos
Elitzur Ramla vs. Dynamo Moscow
Dynamo-GUVD vs. BC Horizont

The results and news from the first leg
Sixteenth-final results:
Chevakata 77- 54 Lupa Promotion Novi Zagreb (Chevakata win 160-110)
Athinaikos 78-58 SCM-CSS Craiova(Athinaikos win 164-105)
Dynamo Moscow 94-63 Hatis Yerevan (Dynamo Moscow win 156-120)
BC Horizont 74-48 Dexia Namur (BC Horizont win 142-93)
ESBVA Lille Metropole 78-59 Jolly JBS (ESBVA Lille Metropole win 130-123)
Gran Canaria vs. Lemminkainen
Dynamo vs. Kursk 76-46 Zeljeznicar (Dynamo Kursk win 149-97)
Nantes-Rezé 93-72 Szeviep Szeged (Nantes-Rezé win 177-131)
Lami-Ved Györ 77-56 BBC Katjeline Seat (Lami-Ved Györ win 143-115)
M. F. Zaragoza 67-55 Besiktas C.T. (Mann Filter Zaragoza win 138-118)
Energa Torun 85-60 Lotto Young Cats (Energa Torun win 155-122)
Arras 107-60 TV Saarlouis Royals (Arras win 199-122)
Aris Thessaloniki 61-77 Dynamo GUVD (Dynamo GUVD win 180-120)
Elitzur Ramla 103-80 Spartak Noginsk (Elitzur Ramla win 180-144)
Partizan Galenika 77-71 BC Minsk 2006 (Partizan Galenika win 154-135)
Reyer Venezia 81-64 MBK Ruzomberok (Reyer Venezia win 172-142)

---
Return to the EuroCup Women index
Return to the top of page
---
Women picture credits:

womensbasketball-in-france.com

Date created: 1 January 2011
---