EuroCup Women quarter-final round-up
The first leg of the EuroCup Women quarter-finals went well for the French clubs. Arras travelled to Russia and returned with a 9-point advantage for the second game.
Nantes-Rezé made it 2-0 for France with a home victory against Russian club side Chevakata (83-70).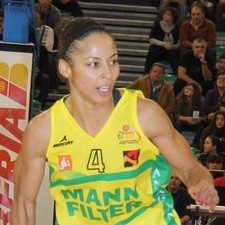 In the other games Mann Filter had to settle for a draw (53-53) against defending champions Sony Athinaikos. Allison Feaster-Strong (in picture) led the hosts from Spain with 13 points and 5 steals.
Greek international Dimitra Kalentzou scored 16 points for Athinaikos.
For the second Spanish club in action Gran Canaria, it was a night to forget in Israel as they were soundly beaten.
Elitzur Ramla, led by 23 points and 21 rebounds by Le'Coe Willingham, beat Gran Canaria (78-54).
Elitzur Ramla did the damage during the first 10 minutes (21-8) to never look back. Shay Doron added 18 points for the hosts.
EuroCup Women series: France against Russia
Arras had to work very hard to come away from Russia with a 9-point lead.
Despite leading by 10 points (17-7) by the end of the first quarter Arras failed to stamp their authority on the game. They allowed the hosts right back into the game in the final quarter.
Ana Dabovic (24 points) put the hosts, Dynamo-GUVD, in front for the first time with just under seven minutes to play (59-58).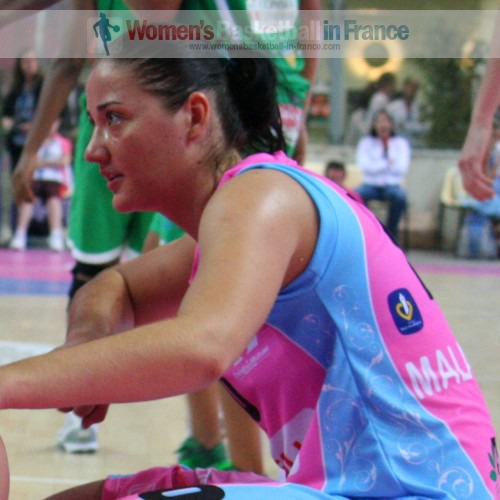 Arras were forced to dig deep into their reserve. They took back the lead for good with five minutes to play through Pauline Akonga N'Simbo (15 points).
A trey by Johanne Gomis (11 points) put Arras firmly in the driving seat. With Olesia Malashenko scoring 17 points and picking up 10 rebounds and having a solid game at both ends of the court, Arras prevailed.
Leilani Mitchell, who did not play in the French Cup match during the weekend, scored 17 points and dished out 5 assists while Marielle Amant also finished in double digits with 10 points.
Sheana Mosch who played for Arras three seasons ago was the only other player from the hosts in double digits with 17 points.
---
Nantes-Rezé ended the perfect record of the number one seeds, Chevakata from Russia, with a first-leg victory (83-70).
Emilija Podrug fired in 21 points while Caroline Aubert dished out 6 assists in a hard fought game.
Chevakata struggled to get inside the paint but had a field day from the land of many, hitting 11-of-23. In addition Loree Moore dished out 12 assists.
Nantes-Rezé were able to build on their lead gradually thanks to the inside work of Mame-Marie Sy-Diop's double-double (18 points and 13 rebounds) and Sabine Niedola who scored 15 points and picked up 7 rebounds.
---
EuroCup Women quarter-final first leg results:
Nantes-Reze 83-70 Chevakata
Mann Filter 53-53 Sony Athinaikos
Elitzur Ramla 78-54 Gran Canaria
Dynamo-GUVD 67-76 Arras

---
Return to the EuroCup Women index
Return to the top of page
---
Women picture credits:

womensbasketball-in-france.com
Masbasket

Date created: 21 January 2011
---