The EuroCup Women qualifying round ends
The draw is out for the sixteenth-finals
The main interest in the final round of the EuroCup Women competition was to see if any of the teams without a win could snatch a victory and qualify for the sixteenth-finals without the need for a calculator.
However none of these teams could break the losing streak and as a result Petrolina AEK Larnaca and Sport Algés Dafundo have been eliminated alongside Olivais Coimbra and Vagos.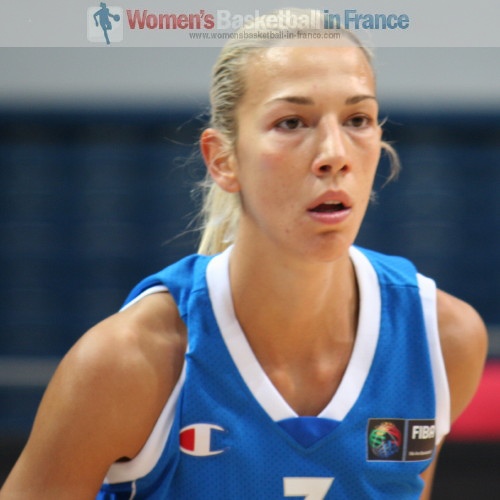 Olga Chatzinikolaou (left) and Dimitra Kalentzou played only their second game of the competition and combined for 30 points in the victory of Sony Athinaikos (81-45) against Lupa Promotion Novi Zagreb.
The most exciting game of the evening went to Aris that just edged out Besiktas (68-66).
Ana Dabovic and Sheana Mosch scored 25 points each as Dynamo-GUVD beat Elitzur Ramla (77-64).
The Russian clubs had a good qualification round with all five clubs qualifying. French clubs also had a smooth run.
The recent history of the competition has not favoured teams that dominated the qualifying round. Since FIBA Europe introduced the ranking system of the sixteenth-finals for the play-off brackets, the number one ranked team has not won the competition.
Round 6 results:
Chevakata 98-57 Lemminkainen
Spartak Noginsk 86-58 SCM-CSS Craiova
Aris 68-66 Besiktas JK
Sony Athinaikos 81-45 Lupa Promotion Novi Zagreb
Dynamo Kursk 66-59 Jolly JBS Euroline
Dynamo-GUVD 77-64 Elitzur Ramla
Dynamo Moscow 105-50 Petrolina AEK
Saarlouis Royals 55-83 Nantes-Rezé
Seat Györ 81-55 Vagos
Ruzomberok 75-54 Olivais Coimbra
Lotto Young Cats 52-65 ESB Lille Metropole
Sport Algés e Dafundo 33-66 Mann Filter
Dexia Namur 50-56 Arras
BBC Sint-Katelijne-Waver 72-79 Gran Canaria

---
EuroCup sixteenth-finals draw
The sixteenth-finals are played over two legs. The higher seeded team is starting away and will be hosting the second game.
The teams were ranked from 1 to 32 according their win-loss percentage and goal average.
The pairing is as follows:
Lupa Promotion (32) vs. Chevakata (1)
Craiova (31) vs. Athinaikos (2)
Hatis Yerevan (30) vs. Dynamo Moscow (3)
Dexia Namur (29) vs. BC Horizont (4)
Jolly JBS (28) vs. ESBVA Lille Metropole (5)
Lemminkainen (27) vs. Gran Canaria (6)
Zeljeznicar (26) vs. Dynamo Kursk (7)
Szeviep Szeged (25) vs. Nantes Rezé (8)
BBC Katjeline (24) vs. Seat Lami-Ved Györ (9)
Besiktas C.T. (23) vs. M. F. Zaragoza (10)
Loto Young Cats (22) vs. Energa Torun (11)
TV Saarlouis Royals (21) vs. Arras (12)
Aris Thessaloniki (20) vs. Dynamo GUVD (13)
Spartak Noginsk (19) vs. Elitzur Ramla (14)
BC Minsk 2006 (18) vs. Partizan Galenika (15)
MBK Ruzomberok (17) vs. Reyer Venezia (16)

---
Return to the EuroCup Women index
Return to the top of page
---
Women picture credits:

womensbasketball-in-france.com

Date created: 3 December 2010
---