EuroCup Women delight for Nantes Rezé
For the first EuroCup Women home game in the history of
Nantes Rezé
, the result was satisfying with a comfortable victory (83-41) against Vagos.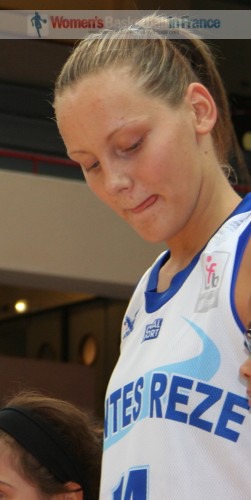 Sabine Niedola (left) led the scoring with 16 points while Joyce Cousseins-Smith scored 15 points and handed out 5 assists.
Vagos had the better start and led (9-6) with four minutes played.
Nantes then stepped up defensively keeping their guests scoreless for the rest of the quarter while taking the lead (16-9). They then stretched their advantage going into the locker room (32-18) despite not having control of the game.
However after the break Nantes stepped up and it was one way traffic for the rest of the game.
Laurent Buffard explained that it took time for his team to find their rhythm. But once they got going in the second half, they took the game away from their opponents.
Villeneuve d'Ascq also had a comfortable home victory (85-60) against Olivais Coimbra with 27 points coming from Olayinka Sanni.
Villeneuve scored the first 11 points of the game and appeared to have everything in control. Yet by the 17th minute Olivais were on level terms (31-31).
As Olivais did not have anybody inside the paint to stop Sanni, Villeneuve regained control by half time (42-34).
Olivais' young team had nothing in their armoury to stop Carla Thomas (25 points and 15 rebounds) and Sanni controlling the rest of the game.
In the other two EuroCup Women games played, the Saarlouis Royals lost at home (77-79) to Hungarian club side Seat Györ.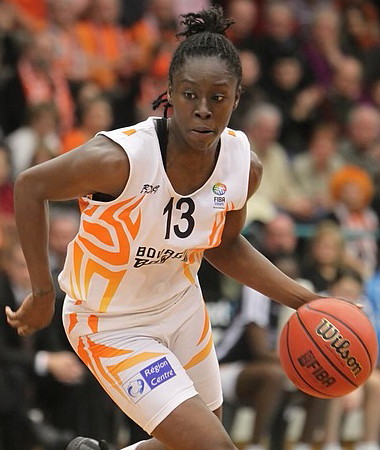 Saarlouis had a terrible start and trailed (1-13) with less than four minutes on the game clock.
Not withstanding Saarlouis dug deep and with two minutes left to play they led (77-75).
Saarlouis failed to score again and were outdone by Essence Carson (right) who tied the match for the final time from the charity stripes. She then hit the winning shot with about 30 seconds to play.
The Lotto Young Cats lost the rebound battle against Ruzomberok and finally the match (62-69).
The Young Cats, playing at home, were led by a solid performance by Lien Lentacker who scored 14 points and picked up 7 rebounds while Klaudia Lukacovicová was the star player for Ruzomberok with 20 points.
The rest of the action from round 2 will be played on Thursday, 4 November 2010.
---
Return to the EuroCup Women index
Return to the top of page
---
EuroCup Women picture credits:

womensbasketball-in-france.com
Olivier Martin

Date created: 03 November 2010
---