EuroCup Women round four news
The big game from this round between Dynamo Moscow and Minsk-2006 lived up to its billing.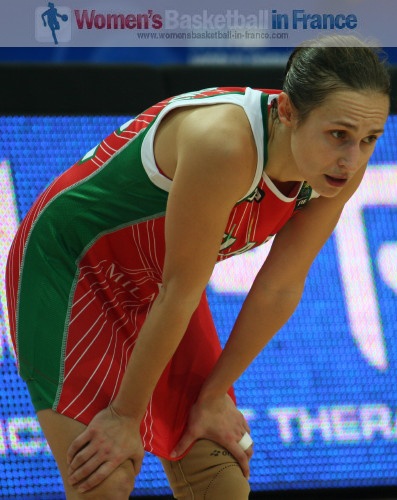 The first half was keenly contested with the teams going into the locker room level (37-37). Dynamo Moscow pulled away during a defensive third quarter 18-9 and did just enough to win (71-67).
Belarus Captain Natalie Marchanka (right) scored 10 points and made 4 assists for Dynamo while her team-mate Ekaterina Sytnyak fired in 14 points.
Minsk-2006 were led by Chrissy Givens with 17 points.
In the second game in Minsk, BC Horizont had better luck against their Russian opponents with a (89-77) victory against Spartak Noginsk.
Elsewhere the difficulty for for clubs from Portugal continued with Sport Algés e Dafundo falling on the road to Energa Torun (46-109).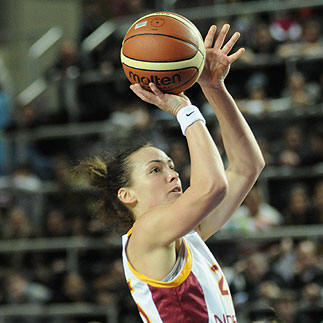 Sport Algés e Dafundo will need to win their last game to stand any chance of picking up a spot as one of the best teams in third place.
Sheana Mosch (left) fired in 34 points for Dynamo-GUVD in their (99-90) overtime victory against HATIS Yerevan.
The following clubs have booked their ticket for the knock-out phase: Chevakata, Horizont, Lupa Promotion Novi Zagre, Sony Athinaikos, Jolly JBS Euroline, Dynamo Kurs,Dynamo-GUVD, Elitzur Ramla, Dynamo Moscow, Nantes Rezé, Seat Györ, Saarlouis Royals, Villeneuve d'Ascq, Energa Torun, Reyer Venezia.
EuroCup Women results from round 4:
Zeljeznicar 63-80 BC Chevakata
Horizont 89-77 Spartak Noginsk
Partizan Galenika 60-67 Aris
HATIS Yerevan 90-99 Dynamo-GUVD
Minsk-2006 67-71 Dynamo Moscow
Saarlouis Royals 76-73 Vagos
Nantes Rezé 72-62 Seat Györ
Lotto Young Cats 68-59 Olivais Coimbra
ESB Lille Metropole 69-42 Ruzomberok
Energa Torun 109-46 Sport Algés e Dafundo
Reyer Venezia 67-62 Dexia Namur
Szeviép 76-61 BBC Sint-Katelijne-Waver

---
Return to the EuroCup Women index
Return to the top of page
---
Women picture credits:

womensbasketball-in-france.com

Date created: 20 November 2010
---