The EuroCup Women trophy is anybody's to win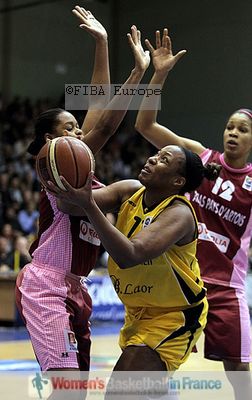 Arras Pays D'Artois find themselves hosting the second leg of the 2011 EuroCup Women final with just home court advantage.
In the first match, televised by FIBATV, Arras allowed their hosts Elitzur Ramla to recover from a 12-point deficit (39-51) with seven minutes to play to finish on level terms (61-61).
Elitzur Ramla had won the Israeli Cup the previous weekend and took their time to get into the game.
Le'Coe Willingham (left) led the way for Elitzur Ramla with 23 points. She scored the very last points of the game. She was supported by former Tarbes player Tanasha Wright, who scored 17 points and collected 12 rebounds. Israeli international Shay Doron was struggling with a light sprain but still managed to score 9 points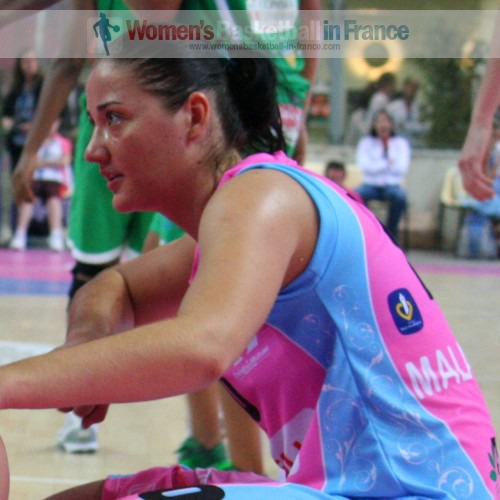 For Arras Olesia Malashenko (right) led the scoring with 18 points while Pauline Akonga N'Simbo was the only other player in double digits with 11 points.
Bruno Blier was disappointed with the final result and thought that his team should have won the game.
The final game of the EuroCup season will be played in Arras on Thursday, 24 March 2011.
Elitzur Ramla: Shay Doron 9, Natasa Ivancevic 0, Laine Selwyn 3 (5 assists), Ornit Shwartz 0, Shiran Zairy 0, Rivi Grinboym 5, Le'Coe Willingham 23, Tanasha Wright 17 (12 Rebounds), Elena Aizenshtat 0, Ganna Zarytska 4
Arras: Leilani Mitchell 2 (5 assists and 5 steals), Laury Aulnette DNP, Krissy Badé 6, Sarah Michel 5, Johanne Gomis 9, Olesia Malashenko 18, Adja Konteh 0, Marielle Amant 8 (13 rebounds), Aija Putnina 2, Pauline Akonga N'Simbo 11

You can watch the highlights from FIBATV here.
---
Return to the EuroCup Women index
Return to the top of page
---
EuroCup Women picture credits:

Date created: 19 March 2011

---