Elitzur Ramla will travel to Greece for the second leg of the EuroCup Women semi-final with a 15-point lead after winning game one (74-59).
Elitzur Ramla, pushed by the supporters, raced out to an early lead (18-5) with just over seven minutes played with Shay Doron leading the way with 6 points.
Ruth Riley ended the 10-0 run of the hosts before her team-mates went 3-of-6 from the charity stripes to close the first quarter trailing (9-21).
The second quarter was a ding-dong affair with Elitzur Ramla having the better of the play early.
Le'Coe Willingham stretched the home team's advantage (29-15) with 3:30 left to play in the first half.
The Greek side woke up from their slump with Riley as the catalyst. Katerina Zohnová, Dimitra Kalentzou and Olga Chatzinikolaou all scored as the defending champions had their best spell in the first half.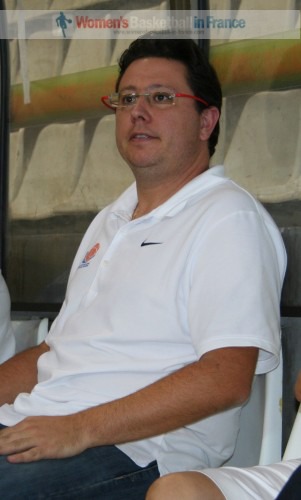 However Tanisha Wright scored on the buzzer for the hosts to go into the locker room with an 8-point advance (31-23).
The first seven minutes were end to end basketball with the hosts maintaining their advantage (45-37).
The yo-yo continued for the rest of the quarter with Elitzur Ramla holding on (52-44) going into the final quarter.
The fist four minutes of the last quarter belonged to the guests. With six minutes left to play it had become a 2-point game in favour of Elitzur Ramla (58-56).
Adan Inbar (right), the coach of the Israeli team, decided to change things around with Laine Selwyn and Wright causing mayhem to finish on a 16-3 run and win game one (74-59).
Elitzur Ramla: Shay Doron 11, Natasa Ivancevic 10 (7 rebounds), Laine Selwyn 11, Ornit Shwartz 0, Shiran Zairy 0, Rivi Grinboym 8, Le'Coe Willingham 22 (5 steals), Tanasha Wright 10 (6 assists), Elena Aizenshtat 0, Ganna Zarytska 2
Sony Athinaikos: Dimitra Kalentzou 8, Iouliti Lymoura 4 (5 assists), Olga Chatzinikolaou 2, Magdalini Karampatzaki DNP, Aikaterina Sotiriou 14, Zoi Kechagia DNP, Marina Kress 0, Afroditi Kosma DNP, Ruth Riley 12, Latoya Davis 11, Ana Baletic 6, Katerina Zohnová 2
---
Return to the EuroCup Women index
Return to the top of page
---
EuroCup Women picture credits:

womensbasketball-in-france.com

Date created: 24 February 2011
---