EuroCup Women down to the last 8
Sony Athinaikos
' defense of the EuroCup Women continues after overturning a 6-point deficit in eliminating Partizan Galenika.
Latoya Davis scored 17 points for the Greek champions during the (71-56) victory. Greek international and captain Dimitra Kalentzou scored 15 points and dished out 5 assists.
Elsewhere 2007 champions Dynamo Moscow were beaten by Elitzur Ramla (57-60). Le'Coe Willingham double-double of 17 points and 16 rebounds helped the Israeli team defend their 9-point lead from the first leg.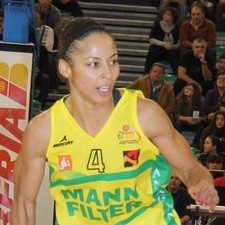 Mann Filter Zaragoza's 18-point lead from game one was too big a margin for hosts Dynamo Kursk. The Spanish team won the second leg (69-59) with 16 points from Svetlana Maksimenko and 11 points each from Allison Feaster-Strong (in picture), Jaklin Zlatanova and Kiesha Brown.
Russian club side Chevakata are the only team left in the EuroCup Women not to have dropped a game. They are the number one seeds and ended the dreams of Italian team Reyer Venezia (73-64) and swept the series (140-126).
Dynamo-GUVD are the second Russian club to qualify despite falling in the second leg (56-64) against BC Horizont.
Arras, Gran Canaria and Nantes Rezé were the first teams to qualify.
Eighth-final results:
Chevakata 73-64 Reyer Venezia (Chevakata wins 140-126)
Sony Athinaikos 71-56 Partizan Galenika (Sony Athinaikos wins 131-122)
Dynamo Moscow 57-60 Elitzur Ramla (Elitzur Ramla wins 126-114)
BC Horizont 64-56 Dynamo-GUVD (Dynamo-GUVD wins 139-130)

Villeneuve d'Ascq 56-58 Arras (Arras wins 134-122)
Gran Canaria 60-63 Energa Torun (Gran Canaria wins 128-126)
Dynamo Kursk 59-69 Mann Filter (Mann Filter wins 146-118)
Nantes-Rezé 74-58 Seat Györ (Nantes-Rezé wins 144-126)

Quarter-final pairings
Chevakata (1) vs. Nantes-Rezé (8)
Athinaikos (2) vs. Mann Filter Zaragoza (10)
Gran Canaria (6) vs. Elitzur Ramla (14)
Arras (12) vs. Dynamo GUVD (13)

---
Return to the EuroCup Women index
Return to the top of page
---
Women picture credits:

Masbasket

Date created: 21 January 2011
---